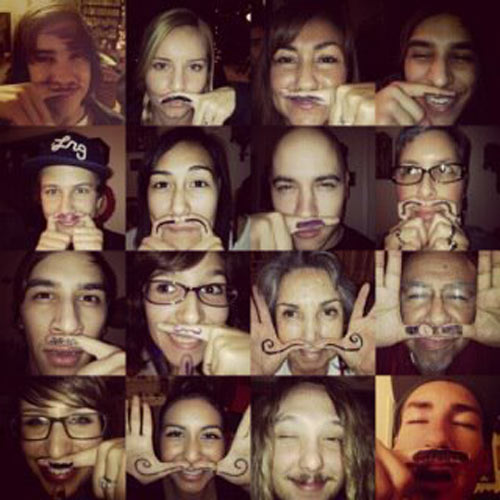 I got this idea — and the photo — from Lisa Braithwaite, a K&J Nation member and all around person of awesomeness. It all began last Christmas when someone pulled out a mustache on a stick, which was used in photos at a family wedding the year before. Since there was only one mustache on a stick (note to self: always make sure to have plenty of mustaches on a stick on hand), someone else pulled out a pen and started drawing finger mustaches. Within about two minutes, everyone was in line for one and a good time was had by all.
Lisa's favorite is her mother-in-law, who is in the third row down, third from left. Although not a particularly wild and crazy person, she got into the fun just like everybody else.
Lisa dubbed it "Mustache Christmas." But this is June, and Christmas is still half a year away (although we'll probably start seeing Christmas decorations any day now…) So do you see what I did there in the title? I changed "Christmas" to "Cookout" because it's summer and that would be more timely. Pretty clever, huh?
Ok, ok, not as clever as the idea itself, which of course can be done any time of year. But I can only assume that the more people you have, the more fun it becomes.
Next time you gather for a cookout, a campfire, Christmas, or pretty much anything else, be sure to pack a marker to make finger mustaches for all!