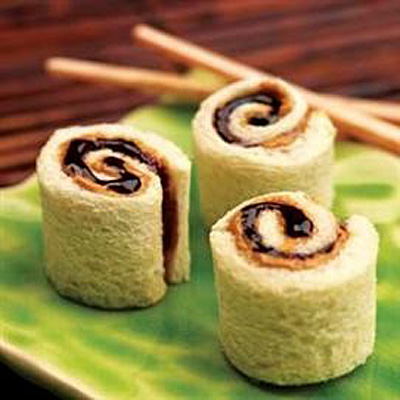 Sushi looks so pretty. But it kind of grosses me out. (You know, the raw parts.) Someday I'm gonna have somebody who knows their sushi show me the ropes, tell me what's good, and tie me down and force me to try it.
Until then, this PB&J Sushi recipe, compliments of Jif, will fit the bill nicely and allow me to practice my chopstick skills.
Ingredients:
2 tablespoons Jif® Creamy Peanut Butter
2 tablespoons Smucker's® Strawberry Jelly, or any Smucker's® Jam, Jelly or Preserves of your choice
2 slices bread
Directions:
REMOVE crusts from bread. With a rolling pin or large soup can, completely flatten bread.
SPREAD 1 tablespoon peanut butter and 1 tablespoon fruit spread on each slice of bread
ROLL each slice into a tight spiral. Cut each spiral into 4 pieces.