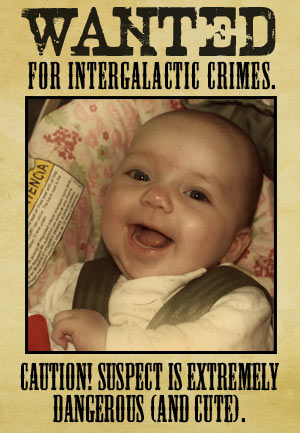 Don't let the cherubic looks and aura of helplessness fool you. Is that newborn in your life an innocent little human being, dependent on you for sustenance and protection? Or is she really a covert ops agent on a mission against her alien captors?
While the former may be true, the latter scenario is way more fun to imagine, and a great way to counteract the Adultitis that often rises up during parenthood.
Recently, a mother of four (and a self-proclaimed sci-fi nerd) named Elizabeth shared with us that she and her husband have been making up stories about their 4-month-old baby girl. Inspired by C.S. Lewis' The Screwtape Letters, Pinky & the Brain, and the antics of Buzz Lightyear, Elizabeth has begun recording the imagined episodes of her villainous daughter.
Here's a recent entry:
It's been 122 days since my abrupt awakening in this cold, forsaken world. In many ways my training has prepared me well. I take great pleasure in tormenting my captors with the myriad of skills at my disposal. Just this morning, the shorter one arrived at my cage wearing dark clothing. Silly being. Within 15 minutes, the entire top was soaked with my regurgitations. I graduated top of the class in that skill as you may recall. Indeed I can hardly feel sorry for the wretch. My great pleasure in anticipating the results led to my presenting an enormous grin just moments before my act of sabotage. She had been fully warned yet still she feebly attempted to utilize a small blanket to stem the tide. Amusing indeed.
Elizabeth reports that the creative exercise keeps them laughing through the ups and downs of parenting an infant. I, for one, would like to see a book come out of this.
We applaud Elizabeth and her husband for taking on Adultitis in such a unique and refreshing manner! Perhaps it will be an inspiration for any parents with little ones out there.
It has definitely caused me to look at my son Ben in a whole new light…