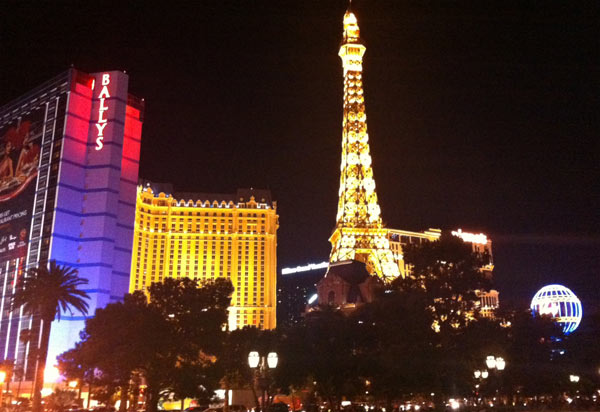 Las Vegas is stunning in its grandiosity, clever in its marketing, and is awash in über talented people and beautiful design.
Las Vegas is also a loud, bold, and damning example of how far we've come from the childlike hallmark of delighting in the little things.
It does not take much to impress a child. They get giddy over little things. But as we get older and Adultitis settles in, it takes more and more to impress us.
And so we end up creating a noisy, showy, over-the-top place like Las Vegas.
Frankly, its over-indulgence and pretension is downright ridiculous. It's a relentless, never-ending pissing contest of one-upmanship, for the Las Vegas of today will most certainly be downright pedestrian a decade from now. Indeed, the Las Vegas of yesteryear is cute and sleepy by today's standards.
The modern day version is impressive in its opulence, but its artificialness strikes me as shallow. Only in Vegas can you enjoy the view from a fake Eiffel Tower, float down fake rivers in fake Venetian gondolas, take pictures of fake antiquities from the ancient world, eat dinner under a fake star-studded sky, and watch a show starring fake women. (Also known as drag queens.) Even the hospitality comes off as disingenuous.
Please bear in mind that I am not speaking at all of the people who live there, but rather of the postcard-friendly apects of the city that draw the tourists. I am picking on Vegas only because I was recently there for a speaking engagement. In fact, the examples of our race for bigger and better are actually widespread. Manhattan and Beverly Hills, to name a few. And at one time, The Small World ride at Disney World was an engaging, modern attraction. Today it is at best a nostalgic trip down memory lane, and at worst, a lame and boring fossil of a ride.
Where does it end?
It won't.
Chasing the new, the fresh, the better-than-ever, is a quest that never ends. Like a sugar rush, it temporarily satisfies, but it doesn't take long before the desire for more rages back stronger than ever.
In America, our houses are bigger, our cars are more luxurious, and our technology is more capable than ever before. And yet we are the most self-medicated and drug-addicted nation that has ever lived.
The night before my speaking gig, as I brushed my teeth and closed the curtains to block out the neon glow of the city below, an interesting thought passed through my mind: It may be the entertainment capital of the world, but my daughter could have her fill of fun just by jumping on the bed in the hotel room. A hotel room that Vegas would prefer you spend as little time in as possible.
Sigh…A Fat Elvis-sized reminder that kids have things figured out better than we ever will.