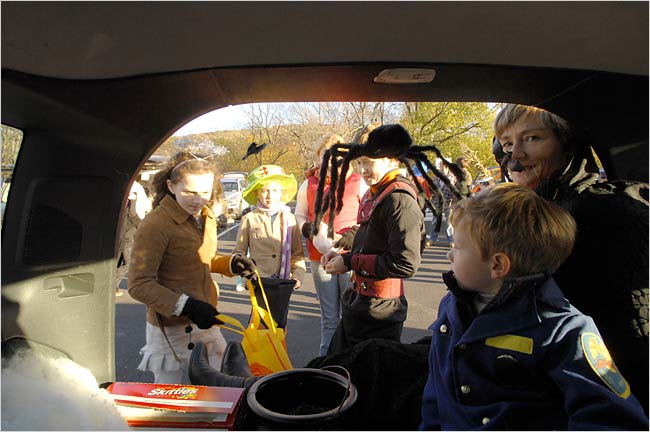 Taking free candy that someone is offering from the trunk of their car is normally not a very good idea. But we heartily endorse it in the case of Trunk or Treat. Also known as Halloween tailgating, trunk-or-treating is like trick-or-treating, except instead of going door-to-door for candy, you go trunk-to-trunk.
In these organized events, people gather in a parking lot with their candy-filled trunks open, while kids in costume go from car to car collecting the sweet currency of Halloween. We heard about this a few years ago while at a speaking gig in New Jersey, but the tradition has been going strong for many years in different parts of the country. It's a great way for people who live in rural areas to make trick-or-treating more efficient, where visiting neighbors who live miles apart is quite the chore. It's also a nice solution for people who live in Adultitis-ridden neighborhoods where few people hand out candy. And of course, churches and schools are also prime sponsors of trunk-or-treating events, as they serve as great safe and fun community builders.
As you might imagine, a Trunk or Treat event can be as elaborate as you want to make it. Many people go all out in decorating their trunks. Prizes could be awarded for best themed or scariest trunk or costume. Spooky music, a costume parade, Halloween crafts and games, and of course yummy treats like candy apples, cinnamon donuts, and apple cider would be perfect add-ons.
Of course, kids love it because they can keep making rounds and gather more candy in less time.
Perhaps you could participate in a Trunk or Treat event this year. Or maybe you or your organization could organize and host one for your community. It's an Adultitis-proof way for people of all ages to enjoy the fun of Halloween!