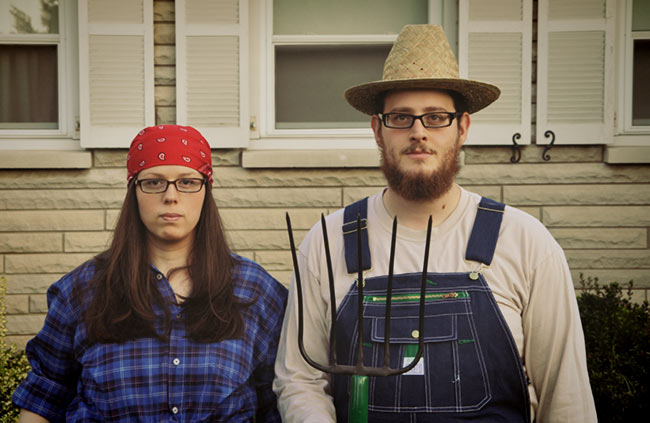 This picture of me and my hubby was the one we used for our annual Happy New Years Card … we recently moved to Louisville, Kentucky from NYC, so being in the "redneck" spirit we decided to jump right into the southern culture!!!! yee-haw!!!
Kim & Jason Nation is a playful group of rebels who share a joyful, indomitable childlike spirit and are not afraid to let that spirit come out to play! They're united by a common goal of fighting Adultitisand the doo-doo heads who embrace its ideals. Quite frankly, they're pretty much the coolest people on the planet. Here's one right now…
• My name is… Deborah Litvin… my hebrew name is Devorah but everyone calls me Duby. (like the joint) Confusing enough? :)
• My hometown is… I'm a Joisy (Jersey) girl at heart, and currently living in good ol' Kentucky with my hubby and the rest of the in-laws.
• My biggest dream…My biggest dream is to write childrens literature… but I'll settle for getting an autograph from my idol – Miss Piggy.
• My inspiration… My hubby, who reminds me that life isn't always a To Do List and sometimes you just gotta have fun!
• When I was a kid, I…loved when my brother and I would build forts out of pillows and blankets! Also had a freakishly large imagination and pretended I was a character in my favorite TV show. (talking about YOU Zack Morris from Saved By The Bell!)
• My favorite childhood toy was…I can only pick one? Ok, obsessed with my Raggedy Ann Doll, the ONE Barbie Doll I owned, and a Pound Purry I got for Chanukah one year and STILL OWN! (25 years later!)
• One way I stay childlike is…Writing Fantasy stories for children keeps me in the zone. It's also very important to stay current on what the Muppets are up to. I also have a policy that my blog avatar and twitter picture is Miss Piggy and Kermit.
• What I know so far… To get a little serious for a moment. God has a plan for all of us. Sometimes we think our lives should turn out one way, and then WHAMO!, God reminds us he's in charge. I also know that life isn't just about 9-5 day jobs and looking forward to the weekend. Life is meant to be LIVED….. Which is EXACTLY why I love "Kim & Jason."
• My favorite things about "Kim & Jason" is… Aside from the fact that they are hysterically funny, but more importantly, they remind us how to appreciate the world through a child's innocent and joyful eyes. This is what gives us spirit and LIFE. And I think they're AWESOME!!!
We saved a space just for YOU in Kim & Jason Nation — join the small rebellion and sign up to become a K&J Insider today!