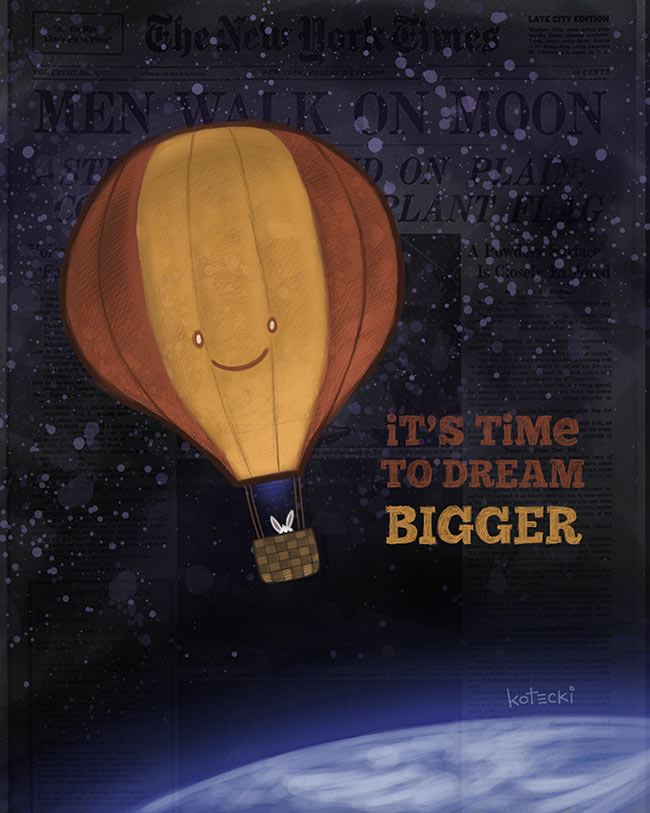 It's Time to Dream Bigger by Jason Kotecki. Made with Photoshop.
When we were young, we had no trouble dreaming big. There was no other way to dream. We dreamed big, often, and with reckless abandon.
But somewhere along the way, our heart got broken. A dream didn't come true and it hurt like hell.
That hurt stayed with us, even if only on a subconscious level. We trained ourselves to set our sights a little lower, to keep from ever feeling that way again. Many of us chalk up that "dreaming big" thing to a childish habit, and our practice of it goes the way of our belief in Santa Claus and the Easter Bunny. So we "mature," and lower our sights to more "realistic" levels.
And then, in between the rebranding of our dreams into "goals," it happens. Without ever consciously realizing it, our lives settle into the groove of mediocrity.
But I caution us all — including myself — to be careful about what we label as realistic. At best, it's too often a limited estimation of what really IS possible, and at worst, it's a cop-out.
Was the prospect of air travel "realistic" to the great grandparents of Orville and Wilbur Wright?
Was the prospect of an African American president "realistic" to the great grandparents of Barack Obama?
Was the prospect of using a wireless telephone to have a video call with a friend on the other side of the world "realistic" to the great grandparents of Steve Jobs?
The dreams we disregard and deem unrealistic today may turn out to be things our great grandkids take for granted.
The problems we face as a nation and as a global community are large. But the hope for a better future lies in big dreams, not realistic ones. Your story is destined to be great. But the people who collect amazing adventures are the ones with big dreams, not realistic ones.
The pain of broken dreams is real. But just as real is the exhilaration of seeing an "impossible" dream come true. The only dreams that have no chance of coming true are the ones never dreamed in the first place.
Now is NOT the time to downgrade your dreams. Now is NOT the time to be realistic.
Now is the time to dream BIGGER.