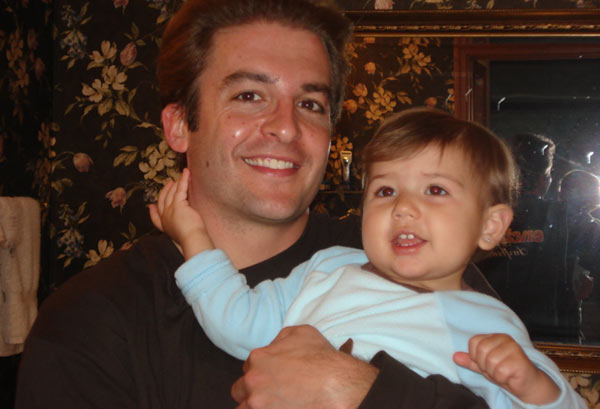 Here's a pic of my niece Sophia and I back when I was younger, thinner and a lot more well off. Those were the days. LOL.
Kim & Jason Nation is a playful group of rebels who share a joyful, indomitable childlike spirit and are not afraid to let that spirit come out to play! They're united by a common goal of fighting Adultitis and the doo-doo heads who embrace its ideals. Quite frankly, they're pretty much the coolest people on the planet. Here's one right now…
• My name is… Dan Dolen.
• My hometown is… I am embarrassed to say, Peoria, IL (Wretched Place, all of my family finally escaped, they had to swim a firey moat — The Illinois River — teeming with amphibious creatures in search of human blood.)
• My biggest dream…To make an Inspirational Movie about my book: Coast to Coast and Back to Normal ( I reside in Normal, Illinois the only place that can take a creative imagination and make it dull, boring and well, "normal".)
• My inspiration… Lately, I have been uninspired and feeling rather "flat." I know Your 40-day book will help me get better : )
• When I was a kid, I…once played soccer with my friends in the muck and mud in socks (no shoes), my Mom hid my socks from me for a week. Now I don't wear socks. I also had a penchant for experimentation and taking apart watches. I went to state for science fair for an experiment in "How to Keep the Hot, Hot and the Cold, Cold", I tell that story on every first date I go on, maybe that's why I don't get many Seconds. JJ.
• My favorite childhood toy was…I had a couple of rather large rubber monsters, you could stretch them out and they would slowly go back their original shape. Of course I had to see what was inside. So I poked a hole in one with a sharp pencil. Translucent Red ooze came out, I thought that was pretty awesome. Atari was pretty great. But my favorite thing was buying, trading and showcasing my extensive baseball card collection, with cards dating back to the late 1940's. I'm having trouble thinking of something better.
• One way I stay childlike is…I don't have TV – this helps me stay oblivious to consumerism and all the bad biased or made up news stories, but not really child-like. Playing with my niece Sophia helped before she moved to Alabama. Maybe I need to get out my old baseball cards or something.
• What I know so far… the older I get, the less I really "Know" for sure, it seems.
• My favorite things about "Kim & Jason" is… the buckeye (that was packaged in my order); I carry it with me for good luck everyday. Your fun-ness and funny-ness. Your purpose for ridding the world of Adultitis, one person at a time is an incredible thing. And I enjoy the cartoons too! I'm on day 2 of the 40 days to ANNIHLATE ADULTITIS, what or how I'm going to celebrate is an unknown at this point but hey, it's only 4pm, I'm off at 4:30, then I'm grocery shopping, then at 6pm I have a meeting to do an external of work e-Learning project with the new company myself and 2 friends are starting, I'm thinking of calling it Overdream, Inc or VisionQuest. If you can think of something better, please let me know. Thanks. Maybe the celebration will have to wait until Wednesday.
We saved a space just for YOU in Kim & Jason Nation — join the small rebellion and sign up to become a K&J Insider today!