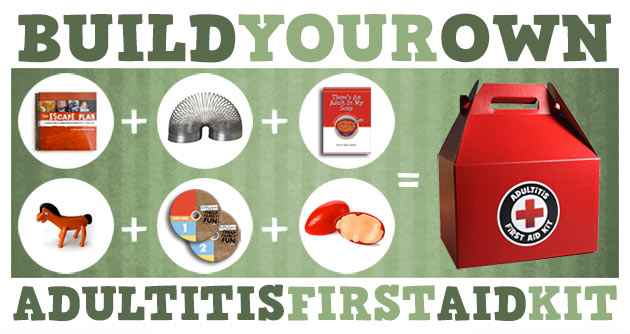 If you're looking for a gift that 1) is guaranteed to give Adultitis a hissy fit, 2) can be customized to each recipient on your list, and 3) will be the most talked about item in your gift exchange, look no further.
It's the Build-Your-Own Adultitis First Aid Kit, and it's better than ever. There are now 20 different items you can choose from to create the perfect Adultitis antidote, including Silly Putty, Slinky, Play-Doh, and more!
It's pretty much a time capsule back to childhood! Extensive tests have proven that every possible configuration is guaranteed to have an immediate and long-lasting effect on Adultitis levels of all degrees. It's perfect for families! Parents! Siblings! Spouses! Staff! Stressed-Out Grown-Ups of any Stripe! And the best news is that the only side effect is fun :)
Give somebody on your list a gift that will not only be a highlight of the season, but a prescription for less stress and more fun all year long. Build yours right now.