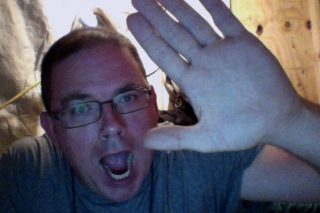 Kim & Jason Nation is a playful group of rebels who share a joyful, indomitable childlike spirit and are not afraid to let that spirit come out to play! They're united by a common goal of fighting Adultitis and the doo-doo heads who embrace its ideals. Quite frankly, they're pretty much the coolest people on the planet. Here's one right now…
• My name is… Ryan McRae.
• My hometown is… Matteson, Illinois. My parents still live in the same house for nearly 40 years!
• My biggest dream…To get paid for my writing and speaking. I love to talk. I yammer on and on. Ask Jason and Kim (ok, don't!)
• My inspiration… I was going to say Jesus, but Kayla Hays already took that answer (in which I wholeheartedly agree.) I guess, the mulitude of friends I have and the amazing things I do. They spur me on to do great things.
• When I was a kid, I…was totally awkward. I was the King of the Nerds. I read fantasy books and was king of the Arcade (Paperboy was my game. Come AT ME.) In school I was in choir and all the honor classes I could cram into 8 hours. I was also the "absent minded professor". I always left something behind! But I learned I was creative and I figured it was a fair trade.
• My favorite childhood toy was…LEGOS. Hands down. Legos. I did play with Transformers and He-Man, but I'm still in love with Legos. I think they just make people smile and make you smarter. Who can't love that?
• One way I stay childlike is…I make sure my friendships are fun. I have a ton of friends and I try to do things to let them know I value and love them. I'll send them postcards or care packages. I'll give them a Green Lantern ring so they know they are in my "inner circle of trust." I try to pick out the gift for their birthday. I will also sneak them into conventions so they can see their heroes (ahem).
• What I know so far… That I am a man in need of grace, love and forgiveness. And that you don't have to live a life other people want.
• My favorite things about "Kim & Jason" is… they will help you out with whatever hairbrained scheme you have. And even though I stalked them both so they'd succumb to be my friend, they still stuck around. (Jason, you can tell that story. Feel free.)
P.S. You may remember Ryan from the sweet post he wrote called Who Is Your Tonto? A Dude's Guide to Adultitis-Fighting Friendships.
We saved a space just for YOU in Kim & Jason Nation — join the small rebellion and sign up to become a K&J Insider today!