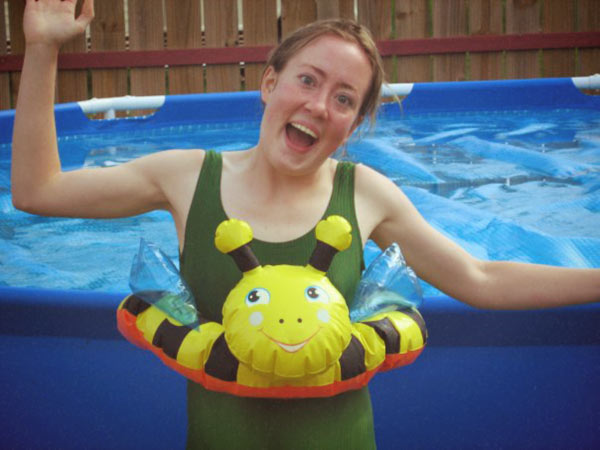 This picture is me by our swimming pool just being silly with a foaty on.
Kim & Jason Nation is a playful group of rebels who share a joyful, indomitable childlike spirit and are not afraid to let that spirit come out to play! They're united by a common goal of fighting Adultitisand the doo-doo heads who embrace its ideals. Quite frankly, they're pretty much the coolest people on the planet. Here's one right now…
• My name is… Kayla Hays.
• My hometown is… Chippewa Falls, Wisconsin.
• My biggest dream…To work at Sea World with the dolphins and whales, to have a hobby farm with lots of varieties of animals. I love animals!
• My inspiration… Jesus. To be more loving like Him. And yes He did have a sense of humor too! Many people thing he was just a solomn serious man. But this wasn't the case 100% of the time. He was joyful and spread joy.
• When I was a kid, I…was a goof ball! I always made people laugh. I did a great Steve Urkel impression . I had big pink glasses and back then spandex were in style, so I'd pull my spandex way up to my chest, slide my glasses down my nose, and say in the Urkel voice, "Did I do that?" I even got tickets to be on America's Funniest Home Videos to do my impression back then! I'm sure my teachers were a bit annoyed by me since I was always trying to make other kids laugh in class too by being a goof ball. As a teen I remember doing chinese firedrills with my friends around my car at stoplights. People around us would laugh!
• My favorite childhood toy was…Barbies!!! My sister and I played Barbies all the time. We had a Barbie shoe store, picnic set, Jeep, I even had one that was named Kayla!
• One way I stay childlike is…by being around kids. They will remind you of how to play and have an imagination and to let loose a bit and be silly. I like being around my 1-1/2 year old nephew. You have to act goofy lots of times for that age!
• What I know so far… Life is too short and precious to take anything for granted. I trust Jesus with my life and want to live for Him.
• My favorite things about "Kim & Jason" is… They remind us to add fun into our lives, to not be so serious about every little thing and to not be afraid to be silly and laugh.
We saved a space just for YOU in Kim & Jason Nation — join the small rebellion and sign up to become a K&J Insider today!