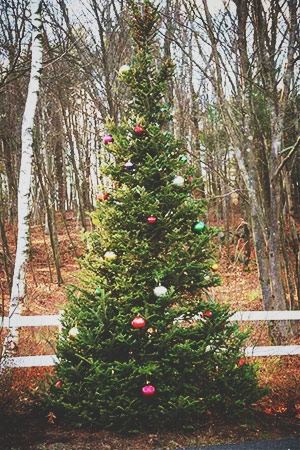 According to Wikipedia, "Vandalism is the behaviour attributed originally to the Vandals, an ancient Germanic people, by the Romans, in respect of culture: ruthless destruction or spoiling of anything beautiful or venerable."
Most of the time vandalism is mean and perpetrated by jerk heads.
But what if an act of vandalism is done is a spirit of cheerfulness and actually adds or enhances beauty? Is it still called vandalism?
Cara shared this community tradition on our Facebook page:
There is a tradition in our town to sneak out in the middle of the night and decorate a random bush/shrub/tree by the side of the road. Part of the fun is to pick a really busy street and to not get 'caught' by passing cars. By Christmas Day, you will see dozens if not hundreds of decorated trees by the highways. (My daughter and I hit one up just last night!)
I'm not sure who is responsible for the cleanup, but this seems pretty harmless and crazy fun. I suspect that anyone against the actions of these townsfolk — and you know there are some — might be suffering from a bit of Adultitis.
Our world needs more joy, more whimsy, more silliness. That's why I support Christmas vandalism.