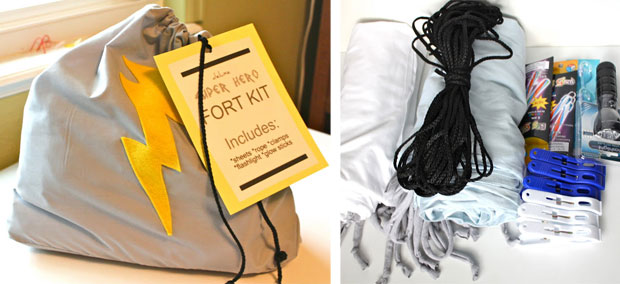 Ok, so how awesome is this…a Superhero Fort Kit! Complete with sheets! Clamps! Glow sticks! The best thing is that you can make it yourself and then make the MONTH of a kid. (If you can dare to part with it, that is. Better make two.)
The ideas and photos come from the fun and awesome Meg + Andy, as does this handy list of what you need to make your own Superhero Fort Kit:
2 Twin sheets: ARC for about $2 each
Ties on the Sheet: old XL T-shirt
Rope: Hobby lobby for about $2
Flash Light: Dollar Store $1
Clamps: Dollar Store $1
Glow Sticks: Dollar Store $1
Clothes Pins: Dollar Store $1
Suction Cups: Dollar Store $1
Lightning Bolt bag: Some cheap gray fabric, yellow felt $2
Add this sweet DIY superhero cape and you'll have to start calling yourself Lucius.