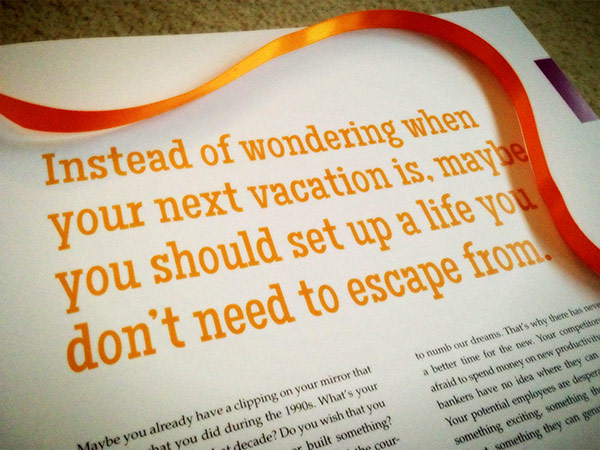 Quotation by Seth Godin.
I don't covet vacation days. I don't work for the weekend. I don't need alcohol to alter my reality.
I can't imagine ever retiring. I have the best job ever, how could I ever retire from doing it?
I have a life I don't need to escape from.
Of course, setting it up took a long time. Nine years, to be exact.
That's how long it took after Kim and I got married to build this business to a point where we could support ourselves, buy a home, have kids, and say no to most of the work we didn't want to do. Nine years of trial and error, amassing debt, and watching my younger brothers build houses and start families while we sweated it out in a crappy apartment with no air conditioning and a monthly grocery budget of about $100 a month.
How did we do it?
We just decided.
A long time ago, we decided that we were going to do whatever it took to create a life we didn't need to escape from. There was no backup plan. We had faith that God didn't put us on this earth to bury our talents in a job that sucked the soul out of us.
Once you decide, the rest is easy, because no matter what obstacle presents itself, you've limited your options to just two: give up or keep going.
Once you've decided, the choice is clear.