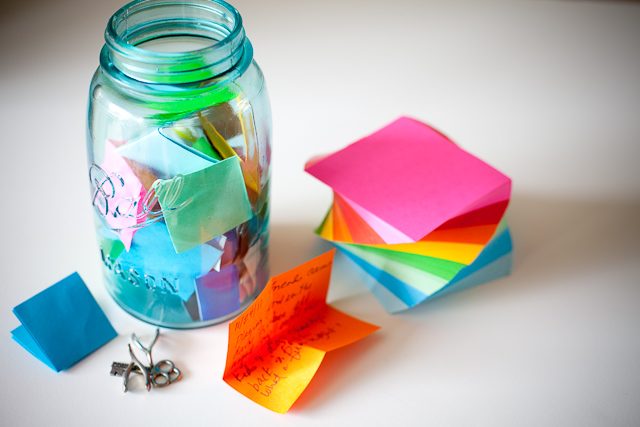 At the end of every year, Kim and I sit down and review the year that was. We talk about what went well, what didn't go well, and reminisce about the adventures we had and the things we accomplished. The hardest part is remembering it all! We review our calendar and archived to-do lists, and even though I'm amazed at how much you can accomplish in a year, I always feel like we're missing stuff.
Which is what makes this idea pure genius.
Find a neat jar and put it in your kitchen with a pen and a stack of tiny paper nearby. Throughout the year, write down any cool adventures, funny stories, or happy things that occur and put them in the jar. Then on New Years Eve, read all the notes and bask in gratitude at the cool stuff that happened during the year.
Since everyone in the household can contribute, a highlight is reading the notes other people added over the course of the year. Even neater: a shelf in your house that features your memory jars through the years!
Looking for some fun ideas to make sure your memory jar is filled with awesome? Try this.
Hat tip to Jill Bodwin and Jaden Hair.