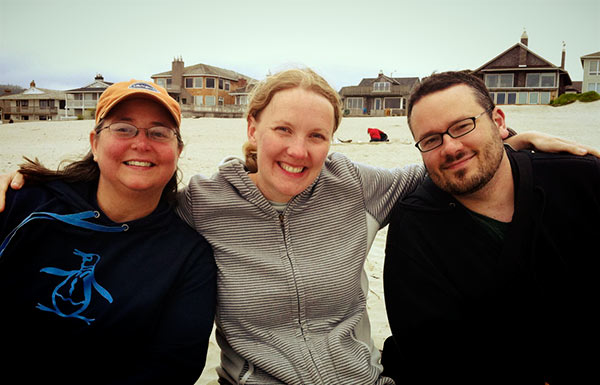 If you have ever ordered anything from the Kim & Jason Lemonade Stand, chances are quite high that my friend Jenna was the one to lovingly pack it up and send it to you (along with the fun free prizes she adds to each order.)
Jenna has been with Kim and I since the beginning of our little business. We met in college and spent many hours dreaming, laughing and serving together. She was one of the people who encouraged me when I was feeling the bug to start drawing comics about two little kids named Kim and Jason.
She was a bridesmaid in our wedding and helped decorate the hall where we had the reception. She moved to Madison after Kim and I got married to help us grow our business. She literally worked for free for many years and earned peanuts for much of the others. (We can finally pay her a decent wage now, but still not nearly as much as she deserves!)
Jenna honed her sales skills by going gift shop to gift shop selling K&J prints and greeting cards, and helped us plan, set-up and staff trade shows booths at gift shows in Chicago and Minneapolis. Long days, indeed.
These days, she watches our kids several hours a week so Kim and I can fight Adultitis. Meanwhile, takes care of lots of the unexciting but necessary parts of our business so we can do what we do best. She runs errands, tracks inventory, ships products to gigs, enters orders into our accounting software, and basically keeps things running smoothly.
She was responsible for a lot of the magic and most of the hard work that made our first Escape Adulthood Summit such a success.
Some of the best ideas we've ever implemented got their start in Jenna's creative brain.
She has done so many things to assist our business and help our dreams come true that if I were to list them all, this post might not be done until her next birthday. She has been a confidant, a counselor, a cheerleader and a friend.
Today she turns forty.
It's her day to celebrate, but I feel like I'm the lucky one. Happy birthday, Jenna!