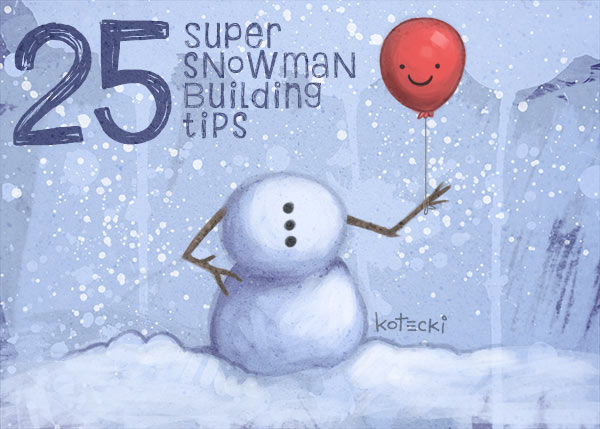 I put on my snow pants, boots and mittens and scoured the vast wastelands of the Internet to uncover a whole bunch of neat tips for making your next snowman the envy of the neighborhood. Please keep in mind that these tips are for building a traditional snowman, which is typically three snow balls placed on top of each other. If you want to get all crazy and create some elaborate snow sculptures, this is not the post you're looking for.
These tips are for those times when you want to roll old school.
Pick a place that is shaded to increase the lifespan of your snowman.
The best type of snow comes when the temperature is right around the freezing mark. If your snow is too dry, spray a fine mist of water over it with a hose. Or you can use a spray bottle or a watering can with a perforated spout.
Start by forming a snowball with your hands. Keep adding more snow to it until it's too big to hold. Then place it on the ground and roll it in a direction opposite of you. Change directions as you roll it, so as to make the ball as spherical as possible.
Flatten the top of the bottom ball and the bottom of the middle ball before stacking to improve stability. Repeat for each segment.
Lift every snowball with your legs and not your back.
If your snow balls are too heavy to lift, take a page out of the ancient Egyptian "Pyramid Building Playbook." Use a wooden plank as a ramp and roll the torso to the top of the base.
For extra stability, place a stick down the center where the sections meet.
Once assembled, pack snow in between the three balls to help keep the whole thing intact.
The face should point away from the sun to avoid melting too quickly.
Experiment with size. If you have a lot of snow, you may be able to make a giant snowman. But don't forget about how awesome and whimsical tiny snowmen can be.
Use kitchen tools like serving spoons and butter knives to sculpt out finer details.
Spray the finished snowman with water to freeze the top layer of snow to keep it from melting too quickly.
Sticky snow can be used to add a nose, muscles, a beer gut, or other anatomical features.
Old plants are a good source for hair.
Collect old clothes that are too worn to donate in a special "snowman clothes box."
Add those little red & white peppermints for cheeks. The pink will leak out into the snow and give your snowman rosy cheeks.
A great place for accoutrements is the fridge. Perhaps there are some cucumbers or carrots or celery stalks that are on their way out to the garbage? Old tomato slices make great eyes!
Don't have coal for the eyes? Rocks work just as well.
Use reflectors or solar-powered LEDs for eyes or buttons to make your guy stand out at night.
You can paint your snowman with a spray bottle filled with a mixture of food coloring and water. (FYI Red makes for great bleeding wounds.)
A snowman isn't a snowman until you give it a name. Be creative!
Feeling ambitious? Make snow-versions of your whole family. Or create an entire scene: family dinner, poker table, crime scene or create some shark fins around your guy.
Take a picture because it won't last forever!
Do you have any tips to share? Add them in the comments!