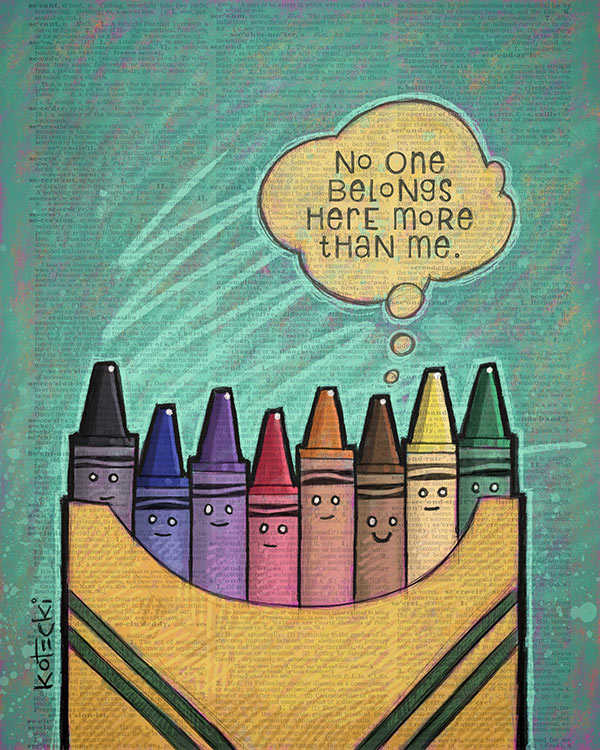 Rich Mullins was a contemporary Christian artist whose songs and perspective were a major influence on me during a crucial point in my life. He passed away in a tragic car accident when I was in college. I remember a chilly, late-night walk on campus during which I reflected on his life and the impact he'd had on the world. As autumn leaves crunched under my feet, I noticed stirring within my heart: a deep desire to make a similar impact. A dark voice of doubt tried to squelch it immediately. "Who do you think you are? You're just a kid from a small town in Illinois!"
Fortunately, another voice came to my defense: "And Rich Mullins was 'just' a kid from a small town in Indiana. Why NOT you?"
I've always held on to that sentiment, especially when I've been intimidated, afraid, or feeling unworthy. Which happens a lot, especially when I'm about to give a speech to an audience that is out of my comfort zone. Yes, the people in the seats may have experience, social status, intelligence, or degrees that exceed my own, but I have something of value to bring to the table, too. I remind myself that my unique perspective may be just the thing that someone in that audience needs to hear on that particular day.
This past year, I had the privilege of being in the audience for a speech by Brené Brown at the World Domination Summit in Portland. As she vulnerably shared her own uneasiness with being on that stage, she offered an insight that served as a reminder to herself as well as each of us: "No one here belongs here more than me."
I like that.
Confidence is not feeling like you're better than everyone else. That's cockiness. I believe that real confidence is the deep-seated belief that no one is better than you.
In the pantheon of crayon colors, brown rarely gets much love. It seems as though red and blue have the best publicists, for they are the colors most widely named as people's favorites. But brown is a very useful hue, coming in quite handy when drawing trees, hair, skin, and many different kinds of animals. (And let's not forget things made of chocolate!) Although we may have our favorites, no one color is better or more useful than any of the others. Each one is uniquely different and equally great.
Although we as people come from different backgrounds, have different viewpoints, and possess different strengths and talents, we each have a distinct brand of magic we are called to unleash on the world.
We need your magic.
Because if you remove one crayon from the box, our world becomes a little less beautiful.
ART: "More Than Me" by Jason Kotecki.