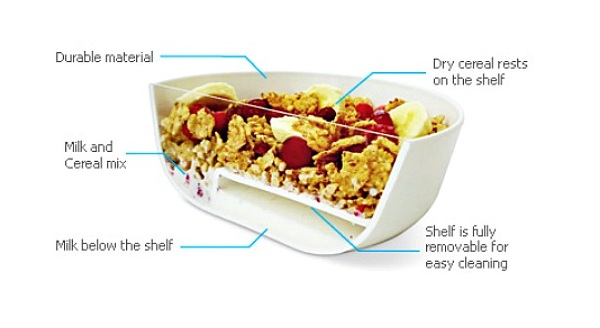 It is a battle that has been waging since the early days of our marriage. I am a cereal junkie, and naturally, require a perfect cereal-to-milk ratio. If I wanted to eat my cereal dry, I'd leave the milk for some stray neighborhood cats. But I don't. Milk is a crucial part of the enjoyment.
However.
If the cereal gets too soggy, I consider the entire contents of the bowl irretrievably ruined.
My wife, on the other hand, has been known to pour a bowl of cereal, add the milk, and then — get this! — WALK. AWAY. Sometimes she's gone for over ten minutes! For her, the cereal isn't ready to eat until it has the same consistency as the bowl full of mush in Goodnight Moon.
My friend Jesse pointed me to the clever bowl pictured above. The "Eatmecrunchy" features a built-in shelf that keeps the cereal crunchy by separating it from the milk. (Talk about a perfect belated birthday gift!) My only wonder is why it took so long for someone to finally solve this age-old problem.
Of course, to Kim, this heaven-sent device makes as much sense as a blanket made of sheet metal.
But what say you? Do you take your cereal markedly crunchy or milk-logged? Let us know in the comments below!