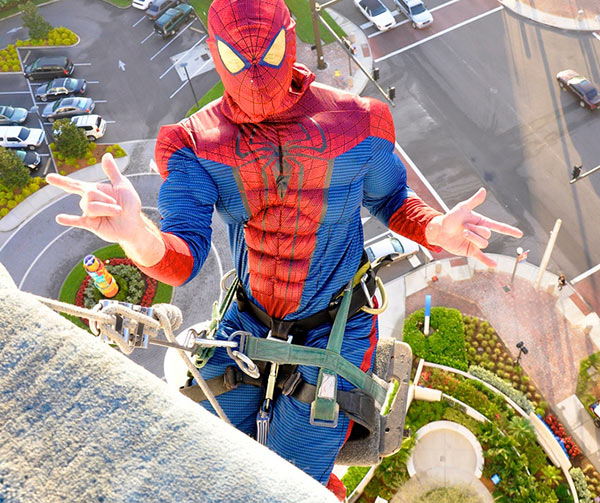 It seems ridiculous at first. What if we dressed our delivery drivers like the Flash? Or the crowd control team at the stadium as Stormtroopers? Or our window washers as…Spiderman?
That's exactly what John Hopkins All Children's Hospital did a few months ago.
The upper windows of the hospital are cleaned once a year, and after seeing another hospital make a splash with their own Spiderman window washers, an executive decided to follow suit with his own team of web slingers. My favorite part of the story is how many people were impacted by this small rebellion. Of course, the kids were thrilled:
A little boy too weak to talk smiled and waved as the famed crime-fighter suddenly appeared in his big picture window, swaying back and forth on a his rope, waving back and placing his hands on the pane as if attached in true Spiderman style.

* * * * *

Holly Ott, clinical coordinator for the All Children's Child Life Department, described how much the happening meant to those kids and families undergoing such stressful times.

"Being in the hospital can be a really challenging experience for patients and families," she said. "What we try to do is normalize the experience and I think that Spider-Man is actually an extraordinary experience for children. It really makes it very therapeutic time for them and their family."
But it wasn't just children who were delighted by the experience:
Soon, the spidery crew dangled outside the windows of the Pediatric Intensive Care Unit on the fifth floor, then moved on when their work was done. "I was so excited – I felt like a kid," said a visitor, Cherie Bjaland, who took in the show. "A few doors down, grandmother Paulette Counts was sleeping on the couch below the window. She hadn't heard anything about any unusual guests swinging by and awoke to the sight of Spider-Man in the window.

"At first, I didn't see his rope and I couldn't believe what I was seeing," she said, laughing. "I thought I must have been dreaming!"
And then there were the window washers themselves:
About 10:30 a.m., Robert Powers – or could it have been Peter Parker? – walked back inside the All Children's lobby in full costume, holding his water bucket. A handful of patients and grown-ups waved enthusiastically as he walked past – and if you could have looked under his mask, you'd have seen a big smile. He made sure that he waved to the entranced onlookers before resuming his high-flying feats outside.

"I've never done anything like this, and I've been washing windows for 29 years," said Robert, pulling the suit over his street clothes. "But doing this for the kids, it feels great."
None of this even mentions the bystanders walking on the street, the news crew covering the spectacle, the people who saw the footage on TV, or even you reading this right now. Kinda neat to think about how much Adultitis treatment happened as a result of renting a few costumes online, isn't it?
Even neater to use this example as inspiration to provide some magic to the children, customers, or employees YOU interact with every day.
You needn't have been bitten by a radioactive spider in order win a battle against Adultitis.
Sometimes a simple costume will do the trick.