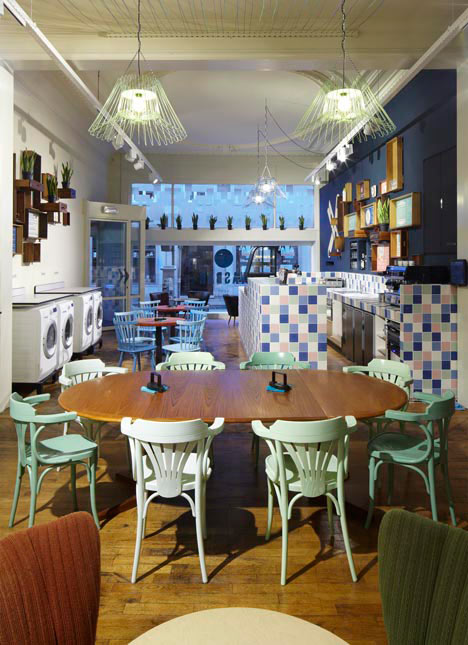 "There's nothing about a washing machine which says it has to stand in an unpleasant space." — Ruud Belmans, Creative Director of Pinkeye
He's right, you know. Washing machines may come with bulky instruction manuals written in seven different languages, but there has never been one printed with a rule stating that it should stand in an unpleasant space. Rules that don't exist are EVERYWHERE, but they are so ingrained in us that we don't even consider the benefits of breaking them.
The Belgians who dreamed up Wasbar did when they set out to design a new kind of laundromat.
I don't know about you, but when I think of laundromats, words like fun, hip, and "place I'd like to hang out" don't usually come to mind. Actually, make that never.
But Wasbar is not your average laundromat. Designed by Pinkeye and housed in a former bookstore, Wabar is a combination laundromat, cafe and hairdressing salon, wrapped up in a fun, colorful, vintage package of awesomeness. Washing machines line the edge of the room, each one bearing the name of a grandma, crowdsourced via Facebook. The dryers take the names of grandpas.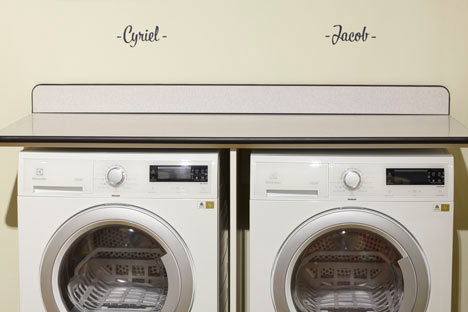 A collage of retro wooden drawers are attached to the walls, creatively used as planters and signs for washing prices, haircut options, and food menus. A neat tile-covered bar and pastel-colored cafe furniture also add to the unique vibe of the space. Wasbar is the first of what is sure to be a chain of stores in Belgium. Hopefully it will catch on in the States, too.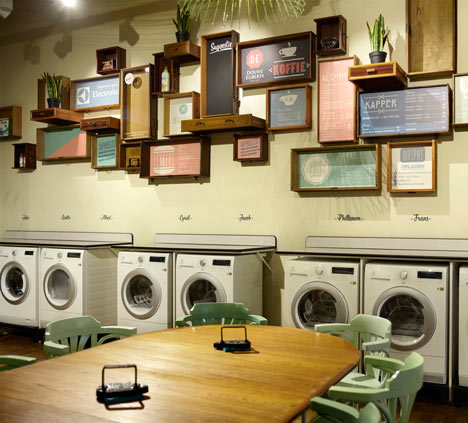 It kind of makes me want to renovate our laundry room and turn it into a lounge. Or at least name our washer and dryer. Flo and Stan, perhaps.
May this serve as inspiration for us all. Not because we've all secretly wanted to revamp the laundromat industry, but because we all have ordinary, Adultitis-encrusted areas of our lives (a room in your house, your backyard, your wardrobe, your routine, your love life, etc.) that could benefit from a bit more fun.
And a little less ordinary.