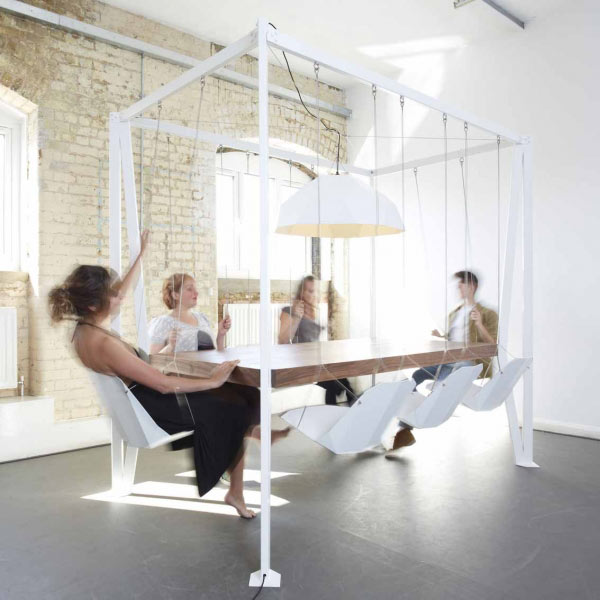 If I had an extra $11,000 sitting around, I'd totally want this Swing Table designed by Duffy London. The video is simple and contains hardly any motion at all, but it somehow ratchets up the "I want that" factor to 11.
What would happen if EVERY company had a conference table like this? (Not just the cool, trendy web companies with vowels missing in their names.) I have a hunch that levels of fun, morale, and groundbreaking ideas would skyrocket, while employee turnover, conflict, and lawsuits would plummet. Think about it: picture two parties at odds with one another, on a seemingly inevitable path to meet one another in a courtroom. Sit them down at the Swing Table for an hour, where it's impossible to stay angry for that long. Eventually they stop taking themselves so seriously, become aware of the ridiculousness of their circumstance, and hash out their differences amiably.
And then go out for ice cream together.
Seems far-fetched, but I'm not so sure. Here's the real question: how can you create your own Swing Table to test the theory? (If "Swing Table" means "some whimsical object or environment that demands all who come in contact with it to drop their guard, quit taking themselves so seriously, and invite their inner child to come play?")
You can most certainly come up with something for less than $11,000, with results that could be just as priceless.