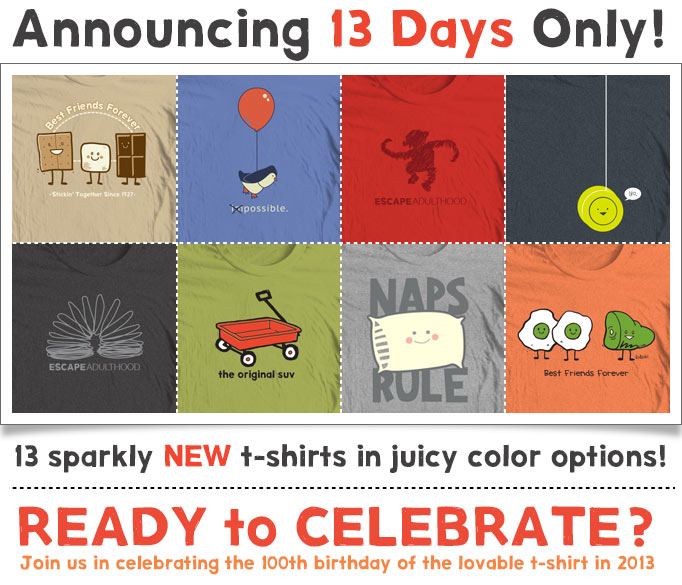 We're throwing a party, Escape Adulthood style! It's our version of a summer blockbuster hit, with yippy skippy new t-shirts to help you celebrate in style. But wait. There's more.
Made to order. 13 days only — this offer goes POOF on July 30!
Reminiscent of our "One Chance Only Sales," we wanted to offer custom options through a special pre-order. So, our devoted team of Oompa Loompas will be meticulously taking orders and creating the exact number of custom colors, sizes and designs you ask for.
This allows us to make cool things, you get to have fun wearing them, and nobody ends up with an office space that looks like it belongs on the TV show "Hoarders."
These shirts are ridiculously soft but hold up to a good washing any mom would be proud of. They are 100% cotton pre-shrunk jersey knit with a tapered neck and shoulders for a better fit on guys AND gals.
Order in the first 100 hours and claim your swell prize!
You're brave. The first one to show up for the party. So when you show up early, you get a special prize. Place your order in the first 100 hours (before noon, Sunday, on July 21) and we'll add a free Kim & Jason greeting card for every shirt you order!
Here's a look at the new threads (most are available in several colors)…
CAN'T DECIDE? We couldn't either.
Order 2 or more shirts and get FREE shipping.
Order 3 or more and get 10% off, too!
We like 'em all, and we're excited to share them with you. If there are specific shirts and colors that sell like gangbusters, we may decide to keep them in stock. But there are no guarantees, so if you see something you like, your best bet is to snag it while you can. Chances are it may not be available anytime soon because we'll be busy creating the next thing :)
Get your next NEW favorite shirts now, because in 13 days, this chance goes poof! (That's July 30!)