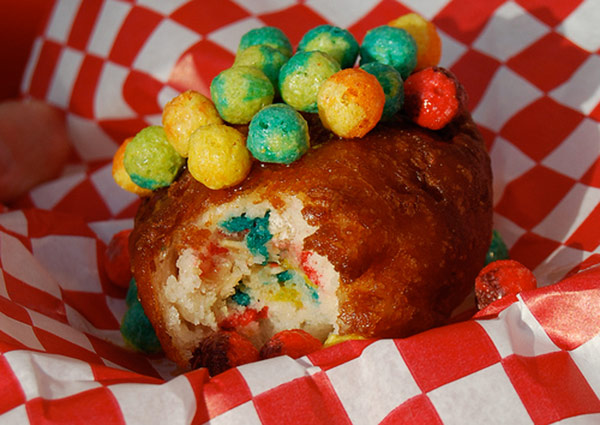 Earlier this month, Kim and I took the kids to the Wisconsin State Fair. As embarrassing as it is to admit, it was our first time in attendance, even though we've lived in Cheeseland for over 13 years. I am glad it only comes once a year, as I'm pretty sure we consumed a week's worth of calories in the one day we were there. Cream puffs, cheese curds, corn dogs, elephant ears…we didn't even scratch the surface of all the deep fried things we WANTED to try, but our shame quota could only be pushed so far.
You know it's been a nutritionally-challenged day when your clan devours a dinner at McDonald's because it's the closest thing you've had to real food all day.
Anyway, I'm not sure where the state-fair-fried-food-on-a-stick phenomenon got its start, but Wisconsin sure holds its own on variety. However, I did not see a deep fried cereal option. If I had, I'm not sure I could have resisted. Apparently deep fried breakfast cereal was debuted at the San Diego County Fair in 2012 by Chicken" Charlie Boghosian. He also launched deep fried Kool-Aid balls and many other wonderful concoctions. This year he offered a Krispy Kreme sloppy joe, which is where I have to draw the line.
Tell us: what was the best/worst/and weirdest deep fried food you've ever tried?