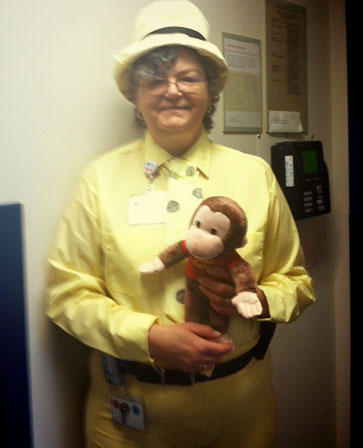 Ellen Leonard is an amazing pediatrician from Connecticut. She is also a Champion of Childhood.
It would seem that of all of the world's professions, "pediatrician" would be near the top of the list when it comes to those that are most conducive to wearing Halloween costumes at work. Ellen does every year. While she's not the only person who does, it strikes me that at the hospital she's worked for over 26 years, she is in the minority.
Even more notable is the effort she puts into her costumes. She's pictured above dressed as the Man with the Yellow Hat from Curious George. The pants, shirt, and hat were purchased at Savers, an resale shop that supports Big Brothers & Big Sisters. "It amazed me that somebody actually wore those yellow pants," she said, "But I suppose there's no accounting for taste."
Although she often likes to make her costumes ("I think it's a good lesson for parents that they don't have to go out and spend a lot of money to have fun," she says.) she has also gone as a pink gorilla, a banana, a chicken, and a cow (complete with udders.) My favorite part is that she gets custom name badges made up showing her in costume, which actually come in handy from time to time:
I save the ID badges with my picture in costume on a bulletin board at my house. One very dry March, I had a fire at the house while I was at work. The police had my name, but they didn't know how to contact me. They tracked me down because of the ID badge with my picture in costume. They called the hospital and told me to come home. So having those fake hospital ID's saved my house!
It seems like a crime to not wear a Halloween costume to work when you have the chance. Ellen surmised that she thinks most people are probably afraid of being perceived as unprofessional. She's probably right.
I'm of the belief that people like doing business with people they like. And people like people who are having fun.
Contrary to popular belief, having fun at your job and being really, really good at it are not mutually exclusive.
In fact, Ellen confirms my belief that the two usually go hand in hand.
---
A Champion of Childhood is someone instilled with the soaring spirit of childhood who rallies against rules that don't exist while engaging in ruthless, senseless acts of silliness that undermine the slavery of Adultitis and its unadventurous version of adulthood. We like shining a light upon the most remarkable among us, holding them up as a dazzling example of what we should strive for in this epic battle against Adultitis. See more here.