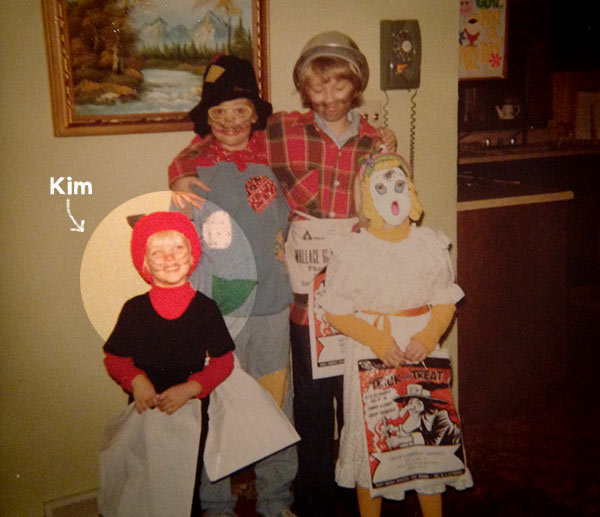 The hot debate in school districts around the country is whether to "Halloween" or not. When I was in school 30 years ago, every class had a Halloween party and the younger kids got to dress up and partake in a Halloween parade throughout the school, which was a super fun treat for everyone. One teacher even had the unique tradition of making homemade donuts in class, complete with sprinkles. It was an awesome time of year. Fun for the sake of fun!
Halloween was not so fun for me, though. To be honest, the stress and anxiety started each year about October 1st when the costumes started popping up in the stores and pictures of jack-o-lanterns started donning windows. These outwards signs of the inevitable holiday filled me with dread and sadness. October 31st would soon be here. Not again!
Right around when I was six, my parents decided that Halloween was not something our family would celebrate anymore. Up to this point, we had taken part in the usual traditions (trick-or-treating, handing out candy, decorating pumpkins). My older sisters spent their childhood years doing these things. My only memory of trick-or-treating was when I was in kindergarten and I thought it was the coolest concept in the entire world. Holy buckets (of candy)! My mom had made me a homemade costume of a cat and I loved it. She even drew whiskers on my face with eyeliner!
My parents had started watching a TV program that was strongly discouraging the practices of Halloween. Coming from a strong Christian foundation, my parents had an eye-opening experience that brought them to the conclusion that Halloween was not something they wanted any of us to partake in. I remember the night exactly when we went around the house and took down the festive decorations that we had so excitedly put up a week before. One by one, they all came down and were thrown away. My simple youthful view was that they were "bad" because it was a night that Satan loved and we cannot celebrate with Satan. Pretty freaky. And pretty freakin' confusing for a kiddo my age.
Inevitably, what followed were years of lies and shame. I was embarrassed to tell my friends and teachers that we didn't go trick-or-treating and I was resentful to my parents that I never got to go. I lied to my classmates about what I was going to be each year, often pretending "I didn't know yet" and the next day would lie again, acting as if I had went. I faked out my parents by acting like I didn't care either way because I didn't want to rock the boat or make them feel bad.
My parents meant well. Their hearts were in the right place. To this day, I don't hold anything against them because honestly I know they were only trying to prevent exposing us to things of an evil nature. Very, very good intentions; hard to argue with their motives.
Thirteen years ago when I started teaching kindergarten, the debate to ban Halloween in the school district was in full swing. The core of the debate was that it WAS indeed a religious holiday (separation of church and state). Boy, as you can imagine, this brought up some sensitive issues for me. Things I hadn't thought about in years. So sensitive that I found myself unable to share my experience from childhood with my colleagues.
As it stood when I had left the school after teaching five years, the 5 and 6 year olds were still allowed to have "fall parties" with costumes and treats, but it was a fight from year to year. In those five years of teaching I got to see the holiday through the eyes of these kindergarteners. It was a real gift! For weeks prior, they would savor the anticipation of wearing their costumes and the excitement about seeing what their friends would be dressed as. There was nothing but pure delight to be found when the kiddos got to walk the halls of school in their costume for the Halloween parade (which by that point had then been limited to walking through the kindergarten classes only). And of course — the candy! Cupcakes with little orange pumpkins, orange Hi-C, festive napkins.
Pure, honest, innocent fun.
No child ever mentioned Satan or the "day of the dead." Evil never got brought up. No one ever talked about the religious origins of the holiday or the satanic worship practices. Heck, most people don't even know they exist.
The argument is being made that if schools are not allowed to let other religious holidays be celebrated (Jesus at Christmas, menorahs, etc.) then why should this religious holiday be allowed to continue?
Here's my (maybe too simple) answer…
Many holidays that are celebrated in our culture in the United States have SOME sort of religious origin. Heck, the entire foundation of the origins of this country are religious. Didn't this country get founded on the concept of finding religious freedom? Over the years the religious core of the holiday has faded into the mainstream and the secular traditions have taken the spotlight. A few examples…
Valentine's Day. Are only Catholics allowed to celebrate this day? Yes, it's all based on St. Valentine. Same holds true for St. Patrick's Day. The more obvious ones of course are Christmas and Easter. Yet I know practicing Jews who put up Christmas trees and atheists who dye Easter eggs.
Where's the line between overanalyzing and respect?
Should we stop acknowledging Father's Day in our culture because some people do not know their fathers?
Halloween and every other holiday are great opportunities to be mindful of HOW you celebrate it and what you choose to put emphasis on.
At the end of the day, every parent has to make their own call and do what's best for their family. Jason and I have been very intentional about our Halloween traditions. Our family is intentional about steering clear of the extreme scariness and I'm not big fans of overabundance of the revealing costumes for women, so we opt out of this part of the holiday. However, we all dress up. Lucy looks forward to what we're all going to be. Our neighborhood has a Halloween parade through the streets led by a firetruck, which is a hoot. Our best friends join us in costume for the parade, then we do some trick-or-treating, followed by a dessert first (candy, of course!) dinner together back at our house while we take turns going to the door to hand out candy to our neighbors. And don't forget the annual viewing of "It's the Great Pumpkin, Charlie Brown." Our dinner menu is usually something very fall-ish and under the category of comfort food (think shepherd's pie or homemade soup and warm bread). It's a night we all savor and I suspect will continue to for years to come.
Unfortunately, life is filled with endless inevitable opportunities for hardship and sadness. We've seen this far too many times through our work with Make-A Wish.
When the opportunity for some pure, honest, innocent fun arises, you can bet I'll be the first in line with my pumpkin bucket to get me some of that.