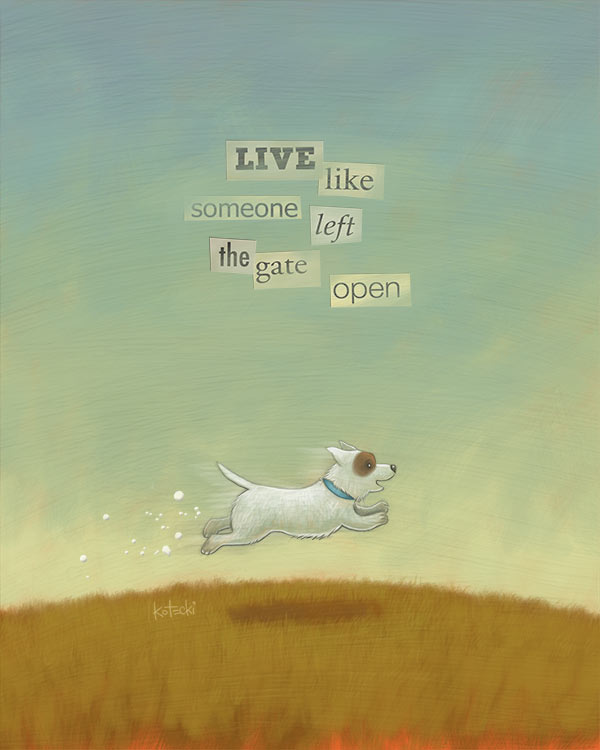 We recently shifted our brand from "Kim & Jason" to "Escape Adulthood" because this mission has grown to be MUCH bigger than just Kim and me. Plus, it's a much better description of what we're all about: Escaping Adulthood.
While this makes more sense from a marketing perspective, in that it's short, descriptive, and more likely to be remembered than two random people's names, there is also a danger in it. You see, it's easy for people to discount all of us as irresponsible, immature, cotton-headed ninny noggins who are avoiding the responsibilities of adulthood and trying to escape the pressures of the "real world."
As a pragmatist, I guess I might be tempted to think the same way if I didn't know any better.
It gives me solace to know that we are not alone. J. R. R. Tolkien, author of those little-known books The Hobbit and The Lord of The Rings, was often accused of writing fairy tales that were nothing more than the escapist's way out of this so-called real world. His reply was simple and brilliant. He proposed that everything was dependent on that from which one is escaping. "We view the flight of the deserter and the escape of a prisoner very differently. Why should a man be scorned if, finding himself in prison, he tries to get out and go home?"
Exactly.
Paying bills, upholding responsibility, and making hard decisions; these are important and necessary hallmarks of adult life. But the deep down person we were when we were kids is much closer to the real us than the stilted version we often present to the world around us. Cynicism, common knowledge, and the rules that don't exist have imprisoned us from being our true selves: passionate, playful and curious creatures who dream big dreams and are filled with faith, hope, and love.
So no, we're not about shirking responsibilities or ignoring reality.
We're just trying to get back home.
What's your favorite way to escape adulthood these days?
---

[ About the Art: Sometimes I find a quote I like and have to work to think of an image that fits. Other times, I sketch a neat image and wait for a good quote or title to come along. Once in a while, they both materialize in an instant. I saw this quote somewhere — might have been the babymoon in Newport — and I instantly knew what I wanted to do with it. I love working with the theme of freedom.
I originally planned on incorporating some clouds near the horizon to contribute to the idea of the dog flying, but it ended up being too busy. Ultimately, I like the minimal look with the carefully-placed paint splots behind him.
The little blur came at the very end. That's what I love most about painting digitally: you can experiment without fear of ruining the whole piece. Don't like it? Hit undo.
I wish life was like that. (Buy the print!) ]