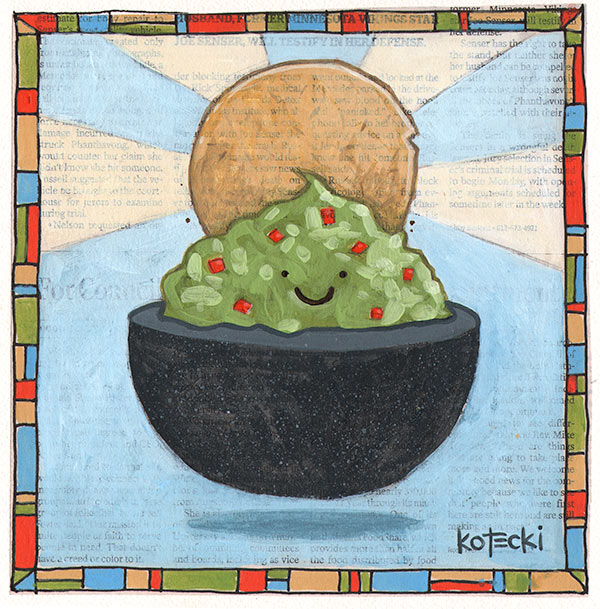 We put our Christmas tree up last weekend. The kids helped out, and by "helped out" I mean dropped hooks on the ground and placed multiple ornaments on a single branch about two feet from the ground.
Trimming the tree is one of my favorite traditions in a holiday season filled with them. Most of the ornaments we own have a story behind them, whether it's a souvenir from our travels, or a gift from a grandma, or a memento from our early years of dating. It's fun strolling down memory lane as each ornament goes up on the tree.
Here are a few of our other holiday traditions:
I make up a batch of fresh guacamole to eat while we decorate the tree. Not sure how this started, but green avocado and red tomatoes fit the Christmas theme.
The kids each get to buy one ornament every year. This year, Ben picked Superman and Lucy chose My Little Pony. I use a Sharpie to write their name and the year on the ornament.
We usually go on at least one Christmas music-enhanced Pajama Run to look at the twinkling holiday lights.
We have a real pine advent wreath displayed prominently on our kitchen table to serve as a constant reminder of the reason for the season and all that we have to be grateful for.
Family traditions are important. They provide a source of identity and security, strengthen the family bond, connect generations, and create lasting memories. They also lift us out of the mundane ruts of everyday life, which is where Adultitis likes to fester.
If you're looking to go on the offensive against Adultitis this year, look for an opportunity to resurrect an old family tradition, tweak one that's gotten stale (ugly cookies, anyone?), or create a brand new one!
What is YOUR favorite holiday tradition? Let's see how many awesome ideas we can collect!