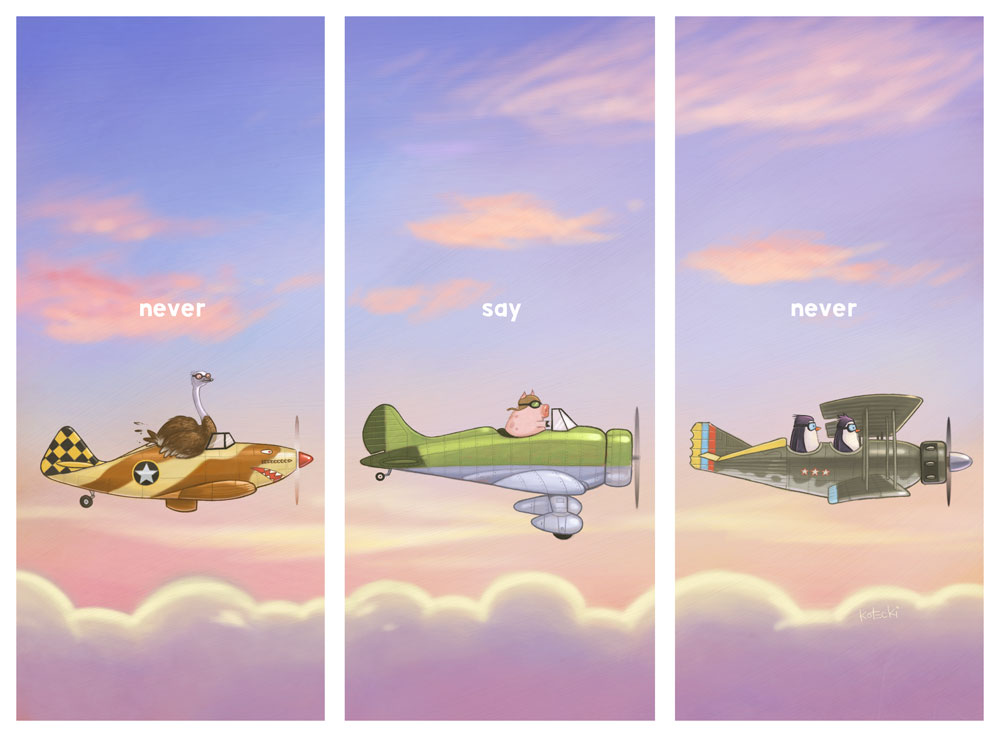 "I'll never marry a blonde."
I'd said that many times. Don't get me wrong; I didn't have anything against blondes at all. It's just that even though all of my friends had a thing for blondes, I was always more of a brunette guy. All of the girls I'd ever dated were brunette, except for one blonde I went to homecoming with sophomore year. Looking back now, I can see that this probably had a lot to do with the women I fancied in my youth: From Princess Leia to Lois Lane to my second grade teacher whom I had a second grade crush on.
The punch line, of course, is that my wife is blonde. And now, so are my kids.
When I was growing up, I was terribly shy and afraid of almost everything, especially new situations. I was often shamed for this, which usually only drove me deeper into my shell. It took me a long time to warm up to things — way longer than most kids — but once I did I was usually ok. But willingly throwing myself into new situations with people I didn't know? Not going to happen. Back then, it would be very reasonable to proclaim that I would never turn into a professional speaker.
God sure does have a sense of humor.
As I've gotten older, I have gotten wiser about saying never. Mostly, I don't.
Thinking we know how everything will turn out is foolish. Nobody really knows anything. Plus, uncertainty is a part of life. And although we often don't like the consequences of that, much depends on our perspective.
I could confidently say that I'd never marry a blonde only because I'd never met someone as beautiful and remarkable as Kim. You could have confidently said I'd never turn into a professional speaker only because you wouldn't have know how my faith journey would blossom and soar during my college years.
The word "never" seems so certain and sure of itself.
He will never walk again.
I'll never get out of debt.
She'll never turn her life around.
I'll never figure this out.
We'll never make it out of this situation.
Never seems permanent. But it only seems that way. The world is changing at an amazing rate. New cures are discovered. New technology is invented. New opportunities emerge. New people walk into your story.
Never say never. There's never not a chance you might be wrong.
---

[ About the Art: I have always been intrigued by the idea that things that are commonplace to us were at one time considered impossible. Like airplanes, for example.
In my sketchbook, there is a drawing of an ostrich in a war plane. I liked how I drew him jammed into the cockpit, and I thought he looked silly in goggles. Later, I was thinking about the phrase, "When pigs fly," and how it's used to describe things that will never happen. One sketch led to another and before long, I came up with a squadron of things that aren't supposed to be able to fly, cruising above the clouds in formation.
I had a fun time researching old war planes, borrowing details from them to create new ones. My father-in-law is an airplane nut, so I thought a lot about him a lot during this piece. I had a real dogfight with the sky, but it turned out to be the part I am most proud of. I think it reflects the soaring feeling of exhilaration that comes when you accomplish something that was supposed to be impossible. (Made with Photoshop.) (Buy the print!) ]