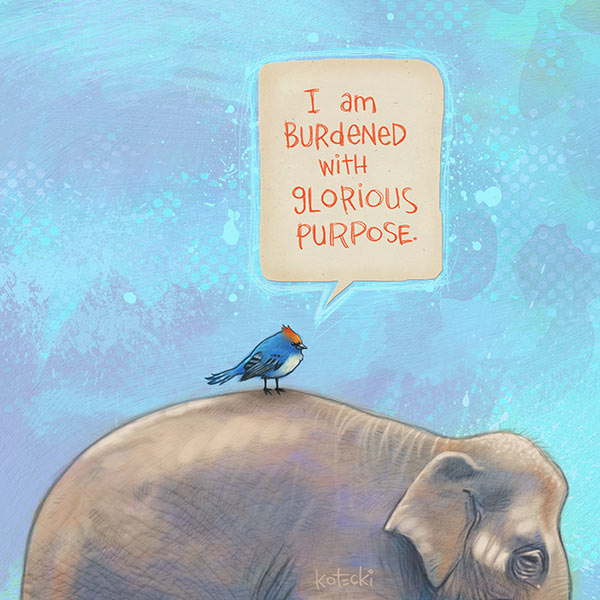 My favorite line in the movie "The Avengers," is when the villain Loki declares, "I am burdened with glorious purpose."
I love that line.
It's pretty funny in the movie, because it speaks to Loki's delusions of grandeur. Although, in truth, each of the heroes in the movie could probably say the same thing and mean it. But because their intent is noble, the connotation of the entire statement is changed.
I too, am burdened with glorious purpose. Not to rule the world, but to make it better.
Are you?
If you aren't burdened with glorious purpose, then binging on Facebook and Netflix every day can be done without any guilt. But if you do share that burden, there's never enough time. I feel like I have too many ideas and dreams and not enough life to accomplish them all.
Regardless of intent, people who are burdened with glorious purpose, the ones dead set on changing the world, always look a little foolish at first. We could probably all agree that the world could use at least a little changing, but who is anyone to think they'll be the one to actually do it? But purpose mixed with tiny actions is very powerful. All the big, world-changing things had humble beginnings.
The Simpsons started out as a bumper sticker on the Tracey Ullman Show.
Michael Dell sold his first computers out of his college dorm room.
One of Fred Rogers earliest jobs was as a puppeteer for a local children's show in Pittsburgh.
Eunice Kennedy Shriver started the Special Olympics in her backyard.
The Missionaries of Charity, which now consist of over 4,500 sisters active in 133 countries, started with one humble woman helping one poor person.
Let the naysayers laugh and the doubts roll off your back. You are not too small to make a dent in the universe.
Especially if you are burdened with glorious purpose.
What is yours?
---

[ About the Art: There are two types of people in the world: those who are burdened with glorious purpose, and those who aren't. The former are the ones who make history, even though they seem a bit foolish to the latter.
I like how the color and texture came out in this one. Originally, the bird was completely blue, but I added a white belly and the flare of orange to make him pop out a bit more (and better reflect his boldness.) If you look closely, you'll notice the elephant is overlaid with a very subtle texture of real elephant skin. (Made with Photoshop.) (Buy the print!) ]