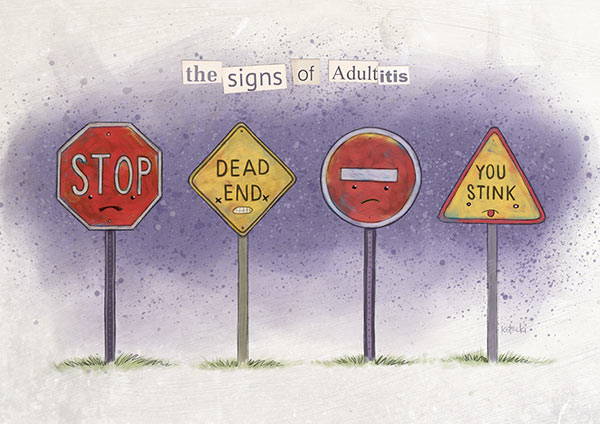 My hero in the sign world is the green go light. He's constantly saying things like, "This is your time," "You can do it," and "Let's do this!" He's the kind of guy you want to hang out with, what with him being all positive and encouraging and whatnot.
He's a rarity. Most of the other signs are harbingers of Adultitis: Stop. Wrong way. Dead end. Do not enter. Road closed. No smoking. No parking. No trespassing. No skateboarding. No shirt, no shoes, no service.
Falling rocks.
They're a grumpy bunch, throwing down restrictions like Miss Hannigan from Annie. Theirs is a world of never, can't, and don't even think about it. They're like the people at a party who are giving you all kinds of statistics about how unsanitary the bowl of Chex mix is.
Now I understand that these signs do us a service in preventing anarchy, but then again, IRS agents serve a purpose too, but people aren't quick to invite them to dinner.
One thing that might be worth thinking about while we're on the subject of signs is this: What kind of vibe are you putting out to your kids, students, patients, customers or co-workers?
Do people get the message that they can try new things, explore new ground, or ask a question without being shot down?
Are you positive, encouraging and open to possibility?
Or are you inflexible, quick to remind people of the rules, and point out why things can't be done?
Now nobody thinks of themselves as a walking Falling Rocks sign, but it's always worth taking a good hard look in the mirror from time to time. Usually our actions are pretty subtle, but they communicate our attitude loud and clear to the people around us.
In a way, we are all signs. The only question is what kind.
---

[ About the Art: This is another example of a finished piece that started out as a silly sketch. I wanted to make it more painterly than a standard cartoon, and I'm happy with the result. I chose the purple background to give the feeling of a foreboding storm cloud. No blue skies here! (Made with Photoshop.) (Buy the print!) ]