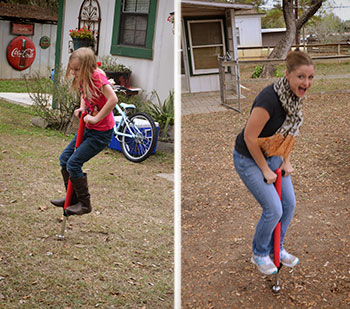 The Small Rebellion is a playful group of escape artists who share a joyful, indomitable childlike spirit and are not afraid to let that spirit come out to play! They're united by a common goal of fighting Adultitis and the doo-doo heads who embrace its ideals. Quite frankly, they're pretty much the coolest people on the planet. Here's one right now…
• My name is…Cheryl Murchison.
• My hometown is… Houston, Texas.
• My biggest dream…To live in Europe again. We lived in Germany while my husband was in the Army and we loved everything about it (aside from military deployments).
• My inspiration…My husband and our three girls.
• When I was a kid, I…wanted to be a veterinarian. I had everything from pet snails, to hermit crabs, to a tiger salamander…My biology professor in college told me that I should consider something else… since math is not my strong point. Good thing I make an awesome preschool teacher! I've been teaching preschool for 12 years and I adore my job!
• My favorite childhood toy was… My Dad somehow scored one of the NASA rocket ships from an old Burger King playground and he turned it into a tree swing! It was awesome! You could seriously blast into space!
• One way I stay childlike is…Having dance parties in the living room with my husband and three daughters… We turn the music up and turn hair brushes into microphones and play air instruments and act totally crazy. We love the "Choo Choo Soul" station on Pandora (it's awesome).
• What I know so far…Life is too short for Adultitis!
• My favorite thing about "Kim & Jason" is…Everything! So glad that I had the privilege to hear Jason speak at our annual preschool teaching conference this year! So many fabulous ideas! I cannot wait to try so many of his ideas like eating dinner with random kitchen cooking utensils and making up our own silly soap operas by putting the TV on mute and making up words for what the characters are saying! I look forward to curing the moderate Adultitus that I have, according to the quiz Jason gave us. It's time to have more fun and less stress!
We saved a space just for YOU in The Small Rebellion — join the tribe of rule-breakers and sign up to become an Escape Adulthood Insider today!