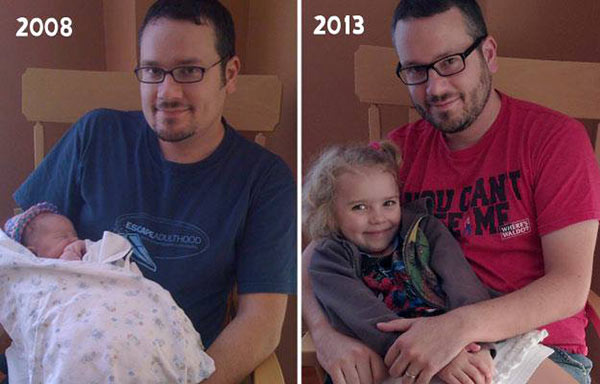 The biggest piece of advice I got when people heard I was gonna be a dad for the first time: "Enjoy every minute; it goes by so fast."
As a parent of three young children, I still hear the same chorus over and over again, from grandparents, empty nesters, and parents of teenagers. It's no doubt a cliché, but that doesn't make it untrue.
Indeed, the days are long but the years are short.
What strikes me is not only how universal the advice is, but how hearing it a million times still can't prepare you for how fast it really does go. (How is Lucy almost four feet tall?!?) You can acknowledge it, expect it, and internalize it with every cell of your being, but no matter how much you prepare or anticipate, time still goes faster than you ever expected. Mindful, well-intentioned souls go into parenthood determined to relish every moment and come out the other end bewildered at how fast it all went.
Time marches on, and try as we might, there is nothing at all we can do to slow it down. The good stuff always goes faster than we'd like.
But are there specific things we CAN do to ensure that at least we won't have any regrets over making the most of the time we had?
YES! Here's how:
Intentional Memory Making. You gotta schedule it.
We schedule dentist appointments, oil changes, soccer games, conference calls, board meetings, and date nights. Why not add memory making to the list of to-dos? We all know that if something doesn't get scheduled, it doesn't get done.
And don't wait 'till the work's finished. (Or the dishes.) The work will always be there. Don't assume your Hallmark moment memories will automagically find their way into the spaces between meetings, car pools, and all the other things that lay claim to your calendar. They won't.
In addition, make a point to minimize distractions during these family times. For example, institute a "no smartphones after six o'clock" policy. Or a tech-free weekend. Because even though you schedule memory making time, the outside world will still try and keep you from being fully present, and the easiest way to do so is through our technology.
Consider two scenarios:
"I can't believe my kids are all grown up. It went by so fast. I really wish I woulda…"
"I can't believe my kids are all grown up. It went by so fast. I'm really glad I…"
Both scenarios contains the sadness that comes with the realization that time went by faster than we would have liked. Nothing we can do about that. But it's the "I wish I woulda's" that are the real killer.
Purposefully scheduling time for some good old-fashioned fun is one of the best ways to sidestep regret and have as few "I wish I wouldas" as possible.