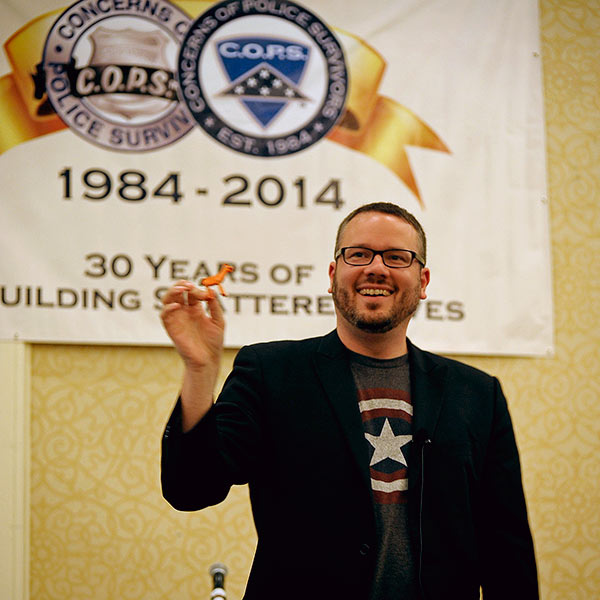 Back in May, I was in Washington D.C. to give the closing keynote of the C.O.P.S. (Concerns of Police Survivors) Annual Conference. It was quite possibly the most rewarding (and humbling) day of my career.
This event, which has been going on for 30 years, is all about helping people who have lost loved ones in the line of duty to rebuild their shattered lives. Moms, dads, sons, daughters, spouses, siblings, children, you name it. They offer grief counseling and support from others who have walked a similar road.
Now, I have never experienced any kind of a loss like this, and there is no way I could even pretend to know what the attendees are going though. Which meant I felt unbelievably unworthy to be on that stage. I was terrified of saying something really stupid or trite or presumptuous. But I knew I was there for a reason, and I spent a lot of time thinking and praying about what I should say. I figured I had no choice but to be honest.
This is how I began, as best as I can remember:
"Let me tell you that I have been speaking for ten years, and not once have I ever felt as humbled to be on a stage as this one. It is an incredible honor to be here among you. I have a five-year-old daughter, and when I sat down to tell her what I was coming out here to do, it was tough. Our family loves superheroes, and especially the Avengers. I told her that there are real life superheroes who volunteer to stand up and protect us from bad guys. But sometimes, the bad guys get 'em.
You see, I have an uncle who is a retired state trooper in Illinois who did some pretty hardcore undercover work. But he made it through ok. I've never experienced anything like you have, so the last thing I want to do is pretend like I know what you're going through. I don't.
But I do know something about stories, and I do have some ideas that can help make our stories better. I know that if we are still breathing, there is still story to be told. I also know that there is nothing I will say today that will be new to you. Sure, there may be a few things that I say differently, but this is not rocket surgery. What I really am is a professional reminder-er. I make a living reminding people of the stuff they already know. Which is actually kind of important, because it's easy to forget as we get caught up in the busyness of life…."
Then I went in to the rest of my talk, leading them through the Adultitis Intake, talking about the rules that don't exist, and sharing some of my best fun and simple tips for creating memories with the people they care about. We spent a lot of time laughing together, with the giraffe kissing video being a particular hit. It was wonderful.
In the end, I talked about being just brave enough. That when life is hard, I take great solace in knowing that I don't have to be filled with courage every moment of my day. Sometimes 20 seconds of bravery here and there is good enough. I encouraged everyone to give themselves permission to have fun, and to let the goodness within them shine forth for all to see, especially other people who might find themselves in the same position.
To my great delight, the talk was very well received. Afterwards, I shared some solemn handshakes and teary-eyed hugs with people who were grateful. One woman shared that she used to be a silly person, but had lost that enthusiasm after her husband was killed a year ago. She declared that she wanted to find her again, and I could tell that she was well on her way. Two adult children gave me a memorial card featuring their dad's picture, along with a black wristband printed with his initials. And another lady thanked me for the laughs, noting she hadn't laughed that hard in too long.
It was a very emotional day. And never before have I been so proud to see the books and art and Adultitis First Aid Kits go to people who were so eager to implement them in their lives.
My heart goes out to everyone who has had a loved one pay the supreme sacrifice to protect our country and defend our freedoms. I am humbled by the bravery of these fallen heroes, and am inspired by the strength of those who are left to carry on without them. And I feel unbelievably privileged to have a job that gives me an opportunity to have days like this.