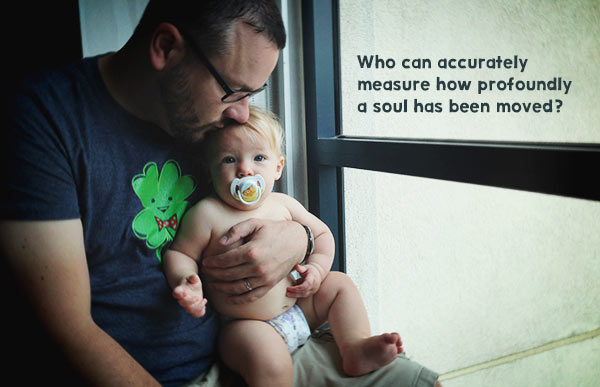 How can you tell if the story you're living is any good?
Before a speech I gave recently, the executive director of the organization that hired me was sharing the results of a survey they had commissioned to evaluate their effectiveness. By all accounts, this organization had met or exceeded all of their performance metrics. But as the leader admitted, "most performance metrics don't tell a really good story."
She's right, you know. Things like income, expenses, and profit margins can give us a handy snapshot of the health and growth of an organization. But they do not tell the whole story. In fact, they can be a rather poor reflection of happiness delivered or lives changed.
After all, who can accurately measure how profoundly a soul has been moved? Or the precise generational impact of a tool that empowers an individual to lift themselves out of poverty? It's much easier to calculate the things that are easily measured — like last quarter's profits — and assume everything else takes care of itself. At best, this technique only provides part of the story. At worst, it can lead us down some bad roads.
Even more dangerous is when we measure our lives in the same way. Just like in business, our personal lives have a set of standard metrics that make for easy guideposts, not just to chart our own progress, but to compare ourselves with others.
Here are a few:
How much money do you make? How many Facebook friends do you have? How many square feet make up your home? What is it worth? What titles do you have or awards have you won? How many degrees have you earned? How many letters are after your name? How many hours do you work? How big is your office? How expensive is your car? What is your kids' GPA? How many extracurricular activities are they involved in? How much money does that cost you? What about their tuition? How many boards do you serve on?
The answers to each of those questions are easily calculated. Many of us spend the majority of our time monitoring those stats while assuming that our efforts spent to increase them will result in a corresponding uptick in the quality of our story.
Not so fast. Just because something can be measured doesn't make it important.
Try these questions on for size:
How interesting is your life? How adventurous is it? How fulfilled are you? How much of a difference are you making? How loved do you feel? How excited are you to start each day? How happy are you? How content?
That last group of questions is awfully hard to quantify. But they have a lot more to do with the awesomeness of your story than the size of your paycheck, your home, or your kids tuition bill.