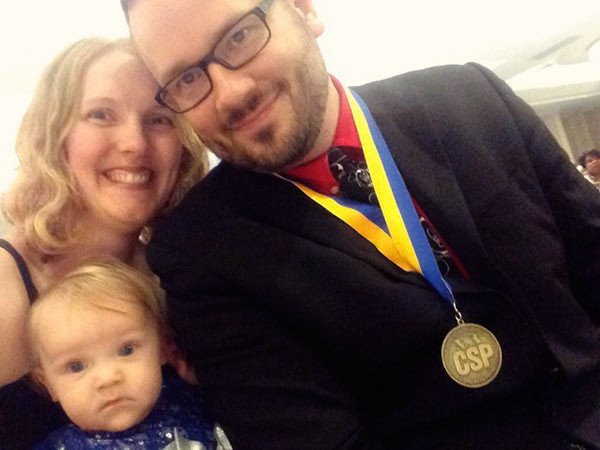 A few weeks ago, I was in San Diego with Kim and Ginny for the annual convention of the National Speakers Association. One of the highlights for me was getting recognized for achieving Certified Speaking Professional (CSP) status. Less than 10% of professional speakers have earned this designation, which is based on number of paid speeches given, income earned, client evaluations and a peer review panel.
I cracked up at some of the alternative ideas for what CSP could stand for, as suggested by people on our Facebook page: Celebrated Silly Person, Childlike Super Powers, Causes Smiles Permanently, Captain Smarty Pants, and my favorite, Can't Speak Portugese.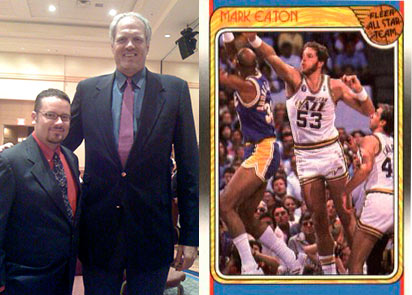 Another personal thrill was that I was in the same CSP class as big Mark Eaton, the all-star center with the Utah Jazz who played with Karl Malone and John Stockton and against people like Michael Jordan and Kareem Abdul-Jabbar. I had a bunch of his basketball cards growing up and got a picture with him a few years ago. I'm around six-feet-tall and he makes me look like an Oompa Loompa!
The best part of each convention for me is being able to hang out with my speaker buddies as well as being inundated with great information and inspiration. In fact, most of my best gems are just as relevant for folks who don't earn a living running their mouth. Here are a few:
"Don't start with what's possible. Start with what's cool. Write music that you can't play. Do whatever it takes to play it." —Mike Rayburn
"Just because something could be worse doesn't mean you don't deserve for them to be better." —Kat Cole, CEO of Cinnabon
"If you can't explain something to a child, then you don't really know it." —Sean Stephenson
"Don't just ask questions. Question your answers." —Eric Chester
"To get really good at (anything), you need to log flight time." —Penn Gilette
"Your mind is always eavesdropping on your self talk." —Jim Kwik
"One of the best ways to transform people is through story." —Nancy Duarte
"A list of ingredients doesn't make someone a chef." —Jay Baer (on the concept of freely giving away your knowledge)
"To do things you haven't done, you have to start doing things you haven't done." —Mike Rayburn
Which one resonates most with you today?