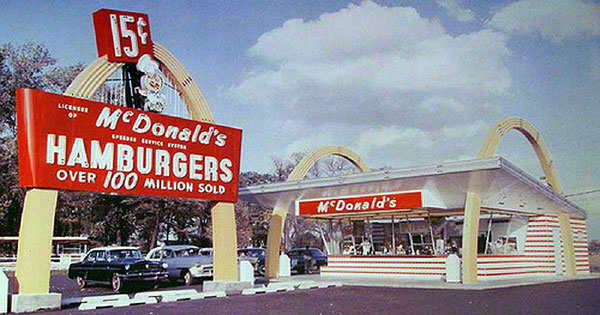 Last weekend, on our way out of town for a family reunion, we had a chance to participate in Small Rebellion #9: Pay It Backward. We pulled in to the McDonald's drive-thru for some road mochas. When I rolled up to the window to pay, I told the girl that I also wanted to pay for the person behind me. Her face lit up.
"Really?" she asked.
I confirmed our request, and a minute later, she came back to the window. "I just wanted to make sure," she began. "Their order is over $20…are you still okay with paying for it?"
"Sure!" I replied.
After we got our coffees, I drove off before I could see the reaction of the driver behind us, but the smile from the McDonald's employee was enough to make my day. It was an unexpected surprise, and a neat reminder that generosity often spreads beyond just the giver and receiver.
Here are few other neat stories from people who have participated:
"I was at local tea shop – there were 7 'elderly' women who came in and sat down for what appeared to be a weekly gathering for brunch. I asked the cashier if they were 'regulars' and she said yes, most of them. I didn't know any of them, but figured their total bill wouldn't be too cheap – easily $20 per person for specialty teas and scones/sandwiches – so I told the cashier to ring me up for $70 on top of MY current bill, and that way each of them would have $10 off THEIR bill. She was so thrilled for them – thanked me profusely and said my gesture surely will bring not only smiles to them but also blessings my way. They didn't know I did this for them – I told the cashier not to say anything until it was time to pay, and just say that I saw their neat group and wanted to make their day in a little way." -Sara Gast
"Did it today, and got caught! I paid for the car two cars behind me. Someone told on me. When they asked if I did it, I lied and said that I didn't pay for their meals. (Only time you can lie) I don't like for them to find out I did it. It 's so much more fun to do it incognito!!" -Mary Nuckolls
There is no deadline to this officially-sanctioned Small Rebellion…join the fun!