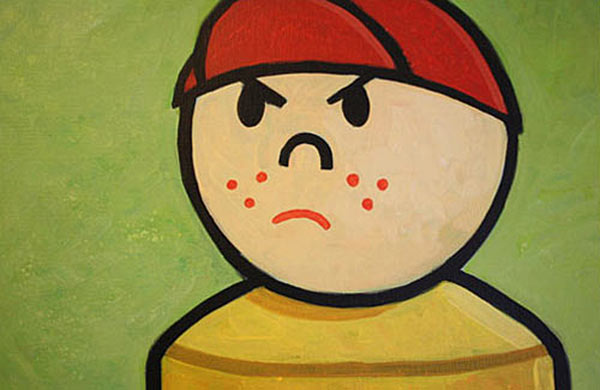 Corinne had just finished a long, hard day at work. She was looking forward to enjoying a juicy leftover hamburger from last night's dinner, but when she opened the fridge, she discovered they were all gone. Fuming, she plopped into her recliner, wrapped herself in a blanket, crossed her arms, and settled in for a good sulk.
Corinne reported that she felt guilty for pouting, but the next day realized that her self-contained pity party wasn't all bad.
She said, "It was a non-violent way to combat my tiredness and frustration, no yelling, no recriminations involved, and I eventually ended up calming down enough to find something else to eat anyway. Happy ending."
Corinne's story reminded me of the first time Kim and I were in Miami. One of the main things I wanted to do was experience South Beach. Three minutes into the only opportunity we had to spend time there, it started to downpour. The weather forecast indicated it would stay that way all day. We had no choice but to postpone our beach fun for another time.
As Kim drove through the city, raindrops raced across the windshield taunting me, and I sat in the passenger seat sulking. Like Corinne, I felt guilty for doing so. I am the guy who makes a living fighting Adultitis, and here I was smack dab in the middle of an Adultitis-riddled pity party. I should be able to let this roll right off me, I thought. I am a hypocrite of the highest order, I thought.
Then, at that moment, I decided to be kind to myself. I gave myself permission to sulk. I gave myself permission to be disappointed, to feel the hurt, and to entertain the thought that the universe had conspired against me to send rain clouds and ruin my day. As I sat there fuming, I threw myself a most extravagant pity party.
And after about fifteen minutes, I started to feel better. I was ready to start thinking about all the good things we were able to do in Miami, and how in the grand scheme of things, this little thunderstorm was as small as it gets. In the end, the change of plans only ruined about fifteen minutes, instead of the whole day.
I am all for being optimistic and positive thinking (I'm a Cubs fan, for goodness' sake!). But life is meant to be lived and it's meant to be felt. Sometimes the feelings are joy and elation, sometimes they are disappointment and grief, but they are all a part of being truly alive. Putting on a happy face to mask some sadness is not all that different than using drugs and alcohol to numb a deep pain. The problem is that those feelings never really go away, and in many cases, they bubble up later with devastating consequences.
Don't get me wrong; I don't want to live in a world filled with Negative Nellies and Sulking Sams. But I think that it's ok to experience the full spectrum of feeling alive, be it good, bad, or ugly. Be kind to yourself, and give yourself permission to be sad when you're sad, hurt when you're hurt, and disappointed when you're disappointed. Those experiences in the valley make the mountaintop moments all the richer.
Sometimes a good sulk can be good for the soul.