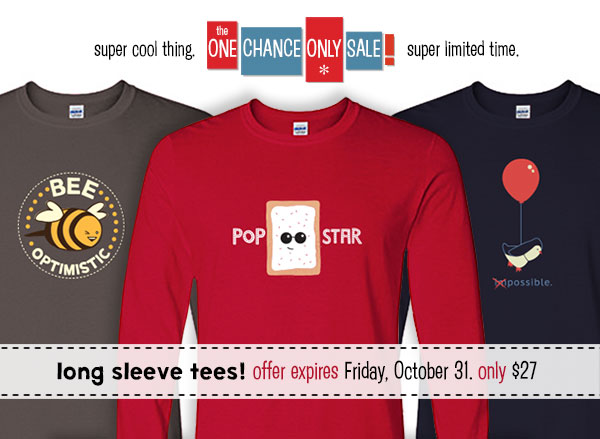 Since we like making stuff way more than we like managing inventory, every once in a while, we create something we think is cool, take orders for a week or so, and then buy the exact number of goodies we need to fill those orders. So whether it's two or two thousand, I get to make cool things, you get a chance to own them, and we don't waste any money on stuff that takes up space in our basement.
Now, does this mean we will never, ever, EVER offer this product again? Not necessarily. But if you see something you like, your best bet is to snag it while you can. Chances are it won't be available anytime soon because we'll be busy creating the next thing :)
Just in time for chillier weather, our latest offering is three long sleeve tees! The brand new Pop Star design joins two classic bestsellers, Bee Optimistic and the re-imagined Penguin Possible.
Printed on a Gildan Soft Style, 100% cotton pre-shrunk jersey knit, the unique tapered neck and shoulders provide a super fit on both guys AND gals. Featuring double needle hemmed sleeves and bottom, and a seamless double needle 3/4″ collar. These shirts are ridiculously soft, but hold up to a good washing.
Your chance to order this item goes "poof!" on Friday, October, 2014. Order yours today!