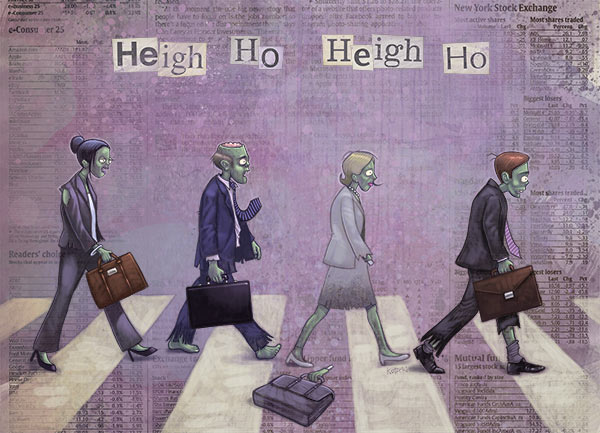 [ This is an excerpt from "Penguins Can't Fly +39 Other Rules That Don't Exist." Order it now and read about 39 more rules that might be holding you back from living the story you deserve. ]
Many well-intentioned parents, grandparents, and teachers urge kids to get a job with good benefits.
I couldn't agree more. Except.
Except that when most people talk about "benefits," they usually mean really, really good health insurance (with full dental!) and some sort of retirement plan that will take care of you when you're put out to pasture.
When I was going through high school, trying to decide what I wanted to do in life, I got the impression that these specific benefits were very important. Even more important than liking the actual job I was doing to obtain said benefits.
That seemed backward to me. The idea of doing a job I hated (or only kinda liked) just for the so-called benefits made shooting myself out of a cannon into a brick wall more appealing.
Fortunately, my parents did support me as I gravitated toward a career in art that pretty much assured there would be no such benefits.
It blows my mind how many people make major life decisions based almost exclusively on this narrow view of "benefits." They are willing to stay stuck in dead-end jobs that eat their soul just because they have a good vision plan. I think that a Cadillac health insurance program or generous vacation packages are fine factors to consider when hashing out the pros and cons of any potential job. But they should never be the only ones. And maybe not even the main ones.
The truth is that my job offers NONE of the benefits in the traditional sense. But that doesn't mean there aren't any. In fact, my job as an artist, author, and speaker, comes with TONS of benefits:
The work I do makes a difference.
I spend every day doing things I love. I set my own hours.
I am rewarded for the results my hard work generates.
I don't have to answer to clueless middle managers, corporate suits, or short-sighted shareholders.
I get paid to travel to cool places.
I have no dress code. (I literally wear jeans or sweatpants every day.)
I can take time off whenever I want. (Kim and I were BOTH able to take a maternity leave when our kids were born.)
On most days, I get to eat breakfast, lunch, and dinner with my family.
My daily commute is seven seconds long.
Now these benefits don't come without a price. (In fact, ALL benefits come with a price of some sort.) Most of mine have required many years of hard work and persistence. Then there's the pressure of being responsible for generating income (no sales = no groceries). Also, I don't have a pension or company-matching 401k program, but I love what I do so much that I don't envision ever really retiring. Oh yeah, and I have to pay a few hundred bucks a month for health insurance.
Totally worth it.
So yes, you should definitely have a job with benefits.
just make sure they're the ones you really want.
[ This is an excerpt from "Penguins Can't Fly +39 Other Rules That Don't Exist." Order it now and read all about 39 other rules that might be holding you back from living the story you deserve. ]