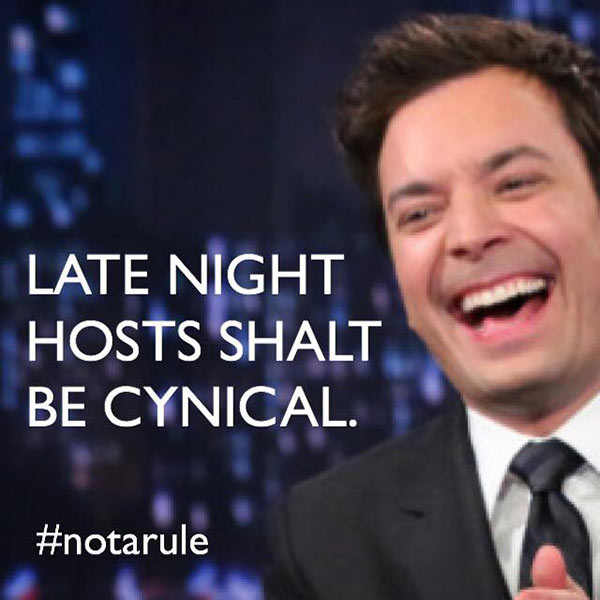 Kim and I love Jimmy Fallon. There's something so childlike about him. Every time I see him on the Tonight Show it's as if he's a little kid whose dad is letting him use a power tool for the first time.
"This is so awesome! I can't believe I'm getting to do this!"
I recently came across a great post by Zach Hoag that expresses it perfectly. Here's my favorite passage:
What makes Fallon different from the others is the kind of childlike, optimistic, inclusive comedy he creates. While he can certainly engage in thick sarcasm, he is decidedly anti-cynicism. And rather than make guests the butt of his humor (as Letterman was often known to do) or the straight men to his punchline, Jimmy always gets his guests in on the joke, creating sketches, games, and bits that include his celebrity talkers and magically transform them from performers into just…people.
Here's one of my favorite clips:
Cynicism may be an easy way to appear hip, intelligent, and cooler than school. But to me, it's just boring. Give me someone who's not afraid to be silly, because as Fallon's fellow Saturday Night Live alum Amy Pohler has said, "There's power in looking silly and not caring that you do."
Not only is there power, but it inspires a lot of joy as well.
And the world needs that a whole heck of a lot more than cynicism.