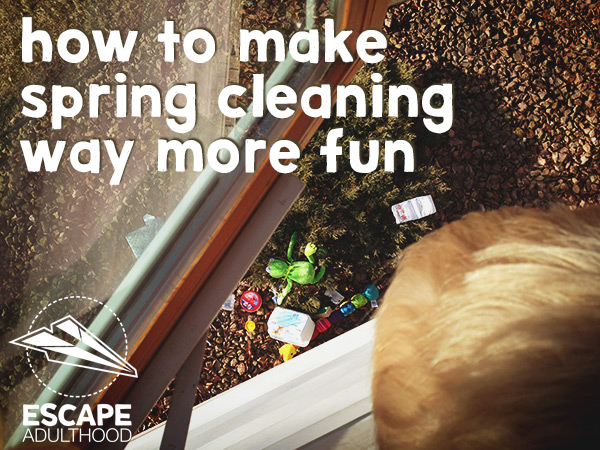 Last week we hosted a live party over on Facebook to celebrate the end of winter. (Winter exacted her revenge by dumping several inches of snow on us a few days later, which obviously proves that Winter has Adultitis.) Anyway, it was a fun and frantic online hangout filled with laughter and lively discussion. One of the topics that came up was spring cleaning. Namely, how to make it more FUN. (Is it even possible?)
You could try what my two-year-old son Ben did last year, which was to just throw everything out the window. Or you could try some of these gems, shared by some fellow Escape Artists:
Crank Up the Music
Many people talked about the power of music to inspire movement and make things more fun. Of course, the style of music is up to you, but 90's music, 80's music, dance music, and children's music were all mentioned as options. And Wendy Whitney Scherer said she prefers Wisconsin Public Radio's humorous and educational weekend shows.
Dance Like No One's Watching
Fitbit owners rejoice! Anna Baker pointed out that by dancing, you can kill two birds with one stone by getting in extra steps AND tidying the house.
Reward Yourself
It's always advisable to treat yourself for completing a less-than-exciting task. It keeps you moving forward and serves as worthy reward once you finish. Robert Bradford suggests eating a doughnut (or chocolate) at every milestone. Angel Bowen's family goes the "eat ice cream for dinner" route. For Adam Braatz, a whiskey old-fashioned (or three) does the trick. And instead of one delayed reward after it's all finished, Steve Arnold has a bunch of smaller rewards to enjoy after each, or the least favorite, chores.
Set the Bar Low
Let's face it, after a long winter, the prospect of "spring" cleaning threatens to turn into "spring/summer/fall" cleaning. Which can make just getting started a challenge. Some folks suggested setting a timer for as few as 15 minutes. If you stop when the timer goes off, at least you've accomplished something. And more times than not, your momentum will keep you going!
You vs. You
For the competitive types, you can also use to timer to keep track of how fast you can complete each room. What will be your world record?
Build Characters
Sarah Miner takes things to a whole new level with a costume (and accent or superhero voice to match), and enlisting a crew in cleaning as their costume character. Rewarding a prize for cleanest area helps ensure silliness AND quality!
Go Soap Skating
Another fun idea, shared by Amy Metcalf, is to put on clean socks and step into a bucket of warm soapy water to scrub the kitchen floor with your feet. Needless to say, her kids heartily endorse this strategy.
Fight Evil
Along similar lines, Jen Haviland gives each of her kids a new pair of white tube socks, aka "monkey feet," and a magic dusting wand, aka a Swiffer duster, and challenges them to see who can capture the most "evil" dirty men. All six kids ages 2-12 love trying to beat mom at getting the bad guys. It makes dusting way more fun when your hands and feet get involved in the competition.
Don't Sweat It
No matter what, remember that life is for living. A clean house can be a great antidote for Adultitis, but it's not the most important thing. Karen Spicher Zakin reminded us that spring cleaning can always happen in summer or fall…
Not a bad list, huh? What's your favorite way to make spring cleaning more fun? Share it in the comments below!
And to make sure you're the first to know about our NEXT Escape Adulthood LIVE party, become an Insider!