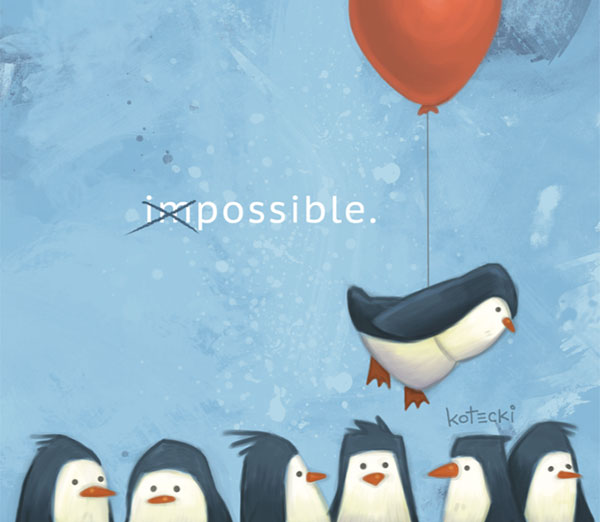 [ This is an excerpt from Penguins Can't Fly +39 Other Rules That Don't Exist, a beautiful and inspiring book that will help you uncover and break the so-called rules that could be holding you back from a life of awesome. Get it here! ]
"I do have dreams, but I try to keep them realistic."
No one likes to admit they don't have dreams. But no one likes to be called a fool, either. Or worse yet, a failure. After all, the bigger you dream, the more likely you are to fail. Claiming to have realistic dreams makes you sound smart. It gives the impression that you're going places, likely to succeed, and are not to be sidetracked chasing any childish, crackpot schemes. But one of those words is terribly problematic.
The word "realistic."
Who's to say what's realistic or not?
Do we really believe that Orville and Wilbur Wright were deemed "realistic" by their fellow townsfolk while they used their bicycle repair shop profits to try and build the world's first "flying machine"?
After all, in 1902 (just ONE year before the Wright Brothers' great success), Lord Kelvin—the otherwise brilliant dude who determined the correct value of absolute zero as approximately –273.15 degrees Celsius—said, "No aeroplane will ever be practically successful."
And just fifty-eight years after the Wright Brothers' breakthrough, was President John F. Kennedy being "realistic" in 1961 when he declared that America would send a man to the Moon by the end of the decade? (By the way, the first handheld pocket calculator would not be invented until five years after Kennedy's speech.)
Meanwhile, is it "realistic" today to think that we will ever find a cure for AIDS or autism or Alzheimer's disease?
When it comes to dreams, this world is suffering from a bigness deficiency. I don't think there's anybody alive who is dreaming too big. In fact, I'm not even sure it's possible. I don't need studies about how much of our brain capacity goes unused to tell me about the potential of mankind. Just look at examples. Whether it's the invention of the artificial heart, or the guy who climbed Mount Everest blind, or the inspiring examples of Holocaust survivors. We are created to do things that don't, at first glance, seem very realistic.
If a dream is realistic, it's not really a dream. It's a to-do.
If you want to be realistic, be realistic about your fears. After all, most of the things you worry about will never happen. But when it comes to your dreams, leave realism at home. At least at the beginning.
No matter how big you think you're dreaming, it's not big enough. A good dream has to be kind of crazy. And improbable.
"Big dreams create the magic that stir men's souls to greatness."—Bill McCartney
If you're going to dream, you might as well dream big. And if you're ever accused of dreaming too big, then you can rest assured that you're on the right track. Just pretend you're a long lost member of the Wright clan.
Don't worry about being realistic. And be very, very cautious about what you label as "impossible."
For as John Andrew Holmes wisely said, "Never tell a young person that something cannot be done. God may have been waiting centuries for somebody ignorant enough of the impossible to do that thing."