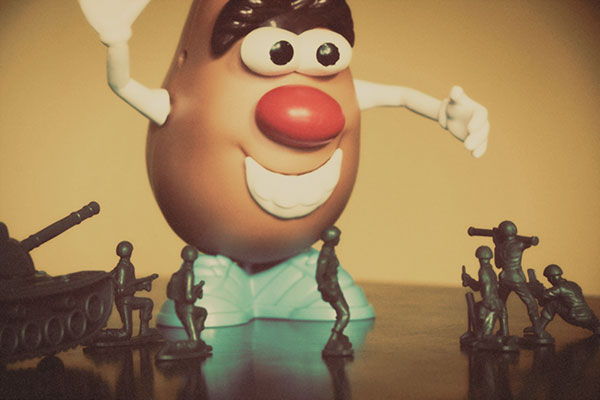 Back in the 1940s and 50s, after the second World War, one of the greatest periods of economic prosperity began. There are a number of reasons for this, but one of the most overlooked is that the people coming home from the war were not afraid to take financial risks in order to pursue their dreams.
It would appear that the fear of financial ruin was nothing compared to bullets whizzing past your head.
The soldiers saw firsthand just how short life really can be. Coming home alive was a gift, and they were not going to squander one minute of it.
I'm afraid we've become sheltered. Accustomed to our steady paycheck, cable TV, and $5 coffees, it's easier than ever to settle for security and good enough while hiding behind the guise of being financially responsible.
Don't get me wrong. The thought of filing bankruptcy is scary, and Kim and I have come perilously close a few times. But I'll take that over being shot at any day.
I think there might be one thing scarier, though, and it's the prospect of getting to the end of my life and realizing I missed out on the adventure of a lifetime because I was afraid of things that weren't as scary as I made them out to be.
I recently met a woman who worked in HR. After hearing a bit of what I do for a living, she admitted that she'd always wanted to launch out on her own as a consultant. Based on the conversation we had, I could tell she'd be a good one. "If I didn't have bills to pay…" she began. "Maybe once we get my daughter through college…"
I offered the idea that she could begin tinkering by starting a blog sharing her expertise and begin moonlighting as a consultant on the side. Perhaps by the time her daughter finished school, she'd be ready to really fly.
I'm not sure if she'll take those first steps, but I hope she does.
We can try and convince ourselves that the timing's not right (hint: it never will be) and that we have plenty of time to launch our big dream.
Soldiers returning from war know differently.