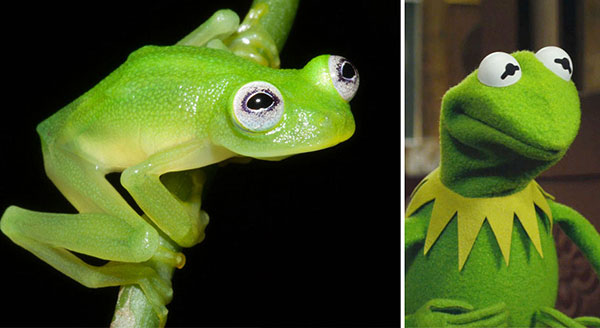 • Scientists just discovered a new frog that looks amazingly like Kermit the Frog. Located in Costa Rica, the frog, named Diane's Bare-hearted Glassfrog, was named by senior scientist Brian Kubicki to honor his mother, Janet Diana Kubicki. Life imitating art?
• Saying "no" is a very useful skill for maintaining some semblance of life balance. Not always easy, though. Love the killer tip shared on 99u.com for avoiding the automatic guilty yes when someone asks you something in person: "Let me check on something and get back to you." Brilliant!
• McKenzie Rabenn is creating Wisconsin's first ever summer camp for grownups. This camp, called Camp Iwanabreak, is set for August 21-23 of this year. They want to encourage adults to release their inner child all while disconnecting from technology. Cool beans!
• Part of the trick to spotting rules that don't exist is getting good at seeing things from a new perspective. These neat aerial satellite wallpapers for your phone are a great reminder!
• Fr. Roderick Vonhögen is a super cool Catholic priest who podcasts about all sorts of geeky pop culture things. I am madly in love with this video of him watching the new Star Wars trailer for the first time. Such pure childlike joy!
Finally, some posts from around here you may have missed:
• Thou shalt always wear clean underpants upon leaving thy house
• Joining Up the Dots