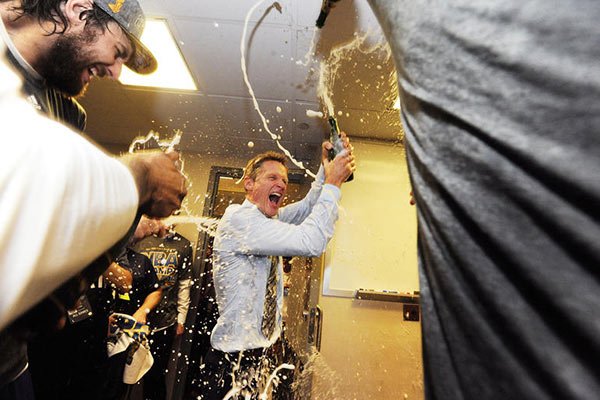 Is it possible to be great and well-balanced at the same time?
By great, I mean championship quality. Among the best in the world.
And by well-balanced, I don't mean that you're never stressed, or are able to fit everything in, and be all things to all people. What I mean is that you don't have to be singularly focused on being great.
People like Steve Jobs (co-founder of Apple) and James Cameron (director of Titanic and Avatar) are undeniably great. But if you dig into their stories, they certainly weren't balanced. Neither would ever be considered for a "Father of the Year" award. Cameron has been quoted as saying, "Anybody can be a father or husband. There are only five people in the world who can do what I do, and I'm going for that."
I want to be a great artist, author, and speaker. But I don't want to sacrifice everything else to achieve it. Kim and I decided a few years ago that if we ended up impacted millions of people in a positive way, but our kids turned out to be a-holes (or grow up to regard us as a-holes), we failed.
So many examples seem to indicate that in order to be among the best in the world at what you do, balance has to be thrown out the window.
And so I had pretty much resigned myself to the fact that my commitment to my family would likely limit the impact I'd make on the world.
Then I read a Sports Illustrated article about Steve Kerr, the head coach of the recently-crowned NBA champion Golden State Warriors. I'm a Bulls fan, and have fond memories of Steve's playing days in Chicago, so I was happy to see him win. The story gave me hope that perhaps greatness and balance were not mutually exclusive. An excerpt:
He is in a profession that does not normally lend itself to perspective, or balance. The sketch of the modern coach borders on caricature: watching Synergy cutups until his eyes bleed, writing notes until his fingers ache, falling asleep on the office floor and wearing the same tracksuit the next day.

Kerr hikes Sibley Volcanic Regional Preserve in Oakland. He surfs Pipes Beach in San Diego. He grills carne asada for his daughter, Maddy, and her volleyball teammates at Cal. For a week every summer he flies to a buddy's ranch in Baja California and stays in cheap motels near Scorpion Bay. Or he throws up a tent on the sand. "What's your ZFL level?" you can ask him, and he'll reply with a smile, "Pretty high." ZFL is one of his pet acronyms: Zest For Life.

After games, even losses, he doesn't dive immediately into video on the plane. He cracks open a book, or plays Scrabble on his computer, while slow slipping a Modelo Especial. Only then does he queue up the video. Don't get it wrong. None of this means he cares any less than his Belichickian brethren. He once broke a racket over his head during a tennis match. He practiced scribbling last summer so he could jot sets faster at timeouts. He drew 8 technical fouls this season despite losing just 15 games.

Kerr needs his books, his Counting Crows songs, his driving range swings at Tilden Park Golf Course to shield himself from the same competitive grease fire that consumes them all.
I love that: "to shield himself from the same competitive grease fire that consumes them all."
Kerr is a direct contrast to Tom Thibodeau, former head coach of the Bulls. Thibodeau is well-known for having absolutely no life outside of basketball. He drives his players hard and himself harder, often sleeping in his office to watch game film. He is widely regarded as a great coach, but I wonder if his lack of balance actually hinders him from greater success.
It seems almost heretical to consider, but I'm beginning to wonder if Steve Jobs would have been even more successful had he paid a little bit more attention to things outside of Apple. Indeed, studies show that at a certain point, working more hours is a waste of time, based on the loss of productivity.
Look, I don't really know any of these people. But I do know that we often worship the accomplishments of the super successful, while conveniently ignoring the trail of health problems and broken relationships left in their wake.
I have struggled to find examples of people who have achieved true greatness and maintained a true sense of balance. I used to think it was because they didn't exist.
The success and story of Steve Kerr gives me hope.