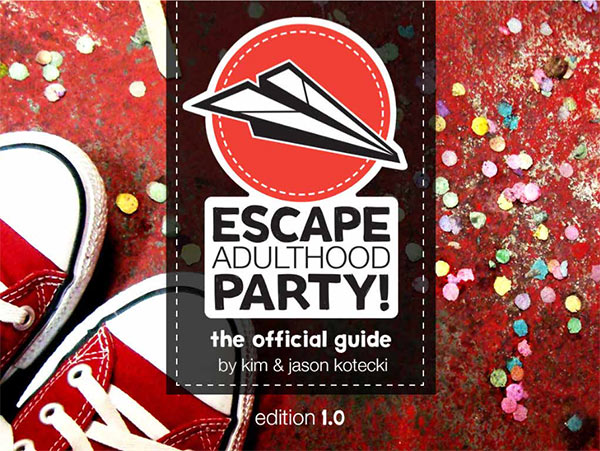 Once upon a time, there was a friendly, kind, and generous woman named Joan. She attended an Escape Adulthood Summit in Madison and wanted to bring back some of the magic she experienced to a group of her friends. So she hosted the first ever Escape Adulthood Party. And a great time was had by all.
Joan didn't ask for permission. She didn't have an advanced degree in party planning. She just did it.
And Kim and I were just tickled pink about it. We have always thought this fight against Adultitis was bigger than us, and we are delighted whenever our suspicions are proven right.
The three Escape Adulthood Summits we've put on have been magical experiences, but the spirit that brings them to life is bigger than any one person, place, or parcel of time. Joan created a spark, and we set out to help fan the flame.
And so, two years ago, we went to work putting together a guide to inspire and encourage others to put on Escape Adulthood Parties of their own. After all, who couldn't benefit from a little less Adultitis in their lives? And an excuse to have a party with no obligation other than to have ton of fun? Sign us up!
We've taken the concept of Joan's original party, combined it with standard elements and best practices of an Escape Adulthood Summit, and sprinkled in tons of ideas provided by people like you. This guide is the result of that magical combination.
It's been a labor of love, and it turned out to be quite a little gem. There are ideas on what kind of food to serve, what things to do, and what to talk about, along with a sample agenda and more inspiring decorating tips than you can shake a stick at. Oh, and if you've read Penguins Can't Fly and had the idea that it would make a great book club book (bless your heart!), we've included a complete discussion guide for it as well. (Warning: adding elements of an Escape Adulthood Party to a standard book club has the potential to put all other book clubs to shame!)
Perhaps best of all, it's 100% free. You can get it right here.
By all means, make Adultitis twitchy by spreading it far and wide.
Keep in mind that it is just a guide. We've given you an outline, but feel free to put your own spin on it to make it your own. Your party can be as casual or elaborate as you like. Our dream is to see people all over the world hosting Escape Adulthood Parties, reporting back with pictures and stories and tips on how to make them even better. We plan on updating it regularly with everyone's good ideas.
The war against Adultitis is epic in scale. The good news is that the fight is fun.
May this guide prove to be a most useful weapon.