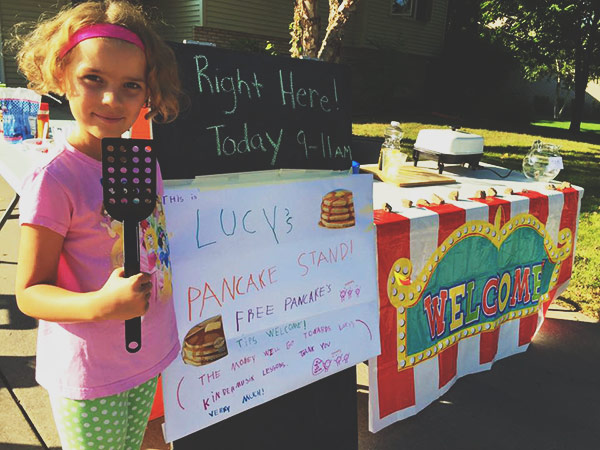 One of the great freedoms of homeschooling is the opportunity to create customized, comprehensive, teachable moments that align with our kids' interests and serve as relevant lessons for real life.
Our daughter Lucy's recent Pancake Stand is one such example.
Last year, Lucy ran a successful lemonade stand to help raise money for music lessons. With a new semester on the horizon, she was ready to take things to the next level. After making pancakes as part of a recent meal with friends, Lucy decided she might like to run a pancake stand.
Who ever heard of a kid running a pancake stand?!
Kim reasoned that all we really needed was an extension cord to power the electric griddle at the end of the driveway. And so, with the only real obstacle obliterated, Project Pancake Stand was on.
Although Kim coached her along, Lucy definitely did the lion's share of the work. She raided her piggy bank to cover the startup costs and made a list of supplies.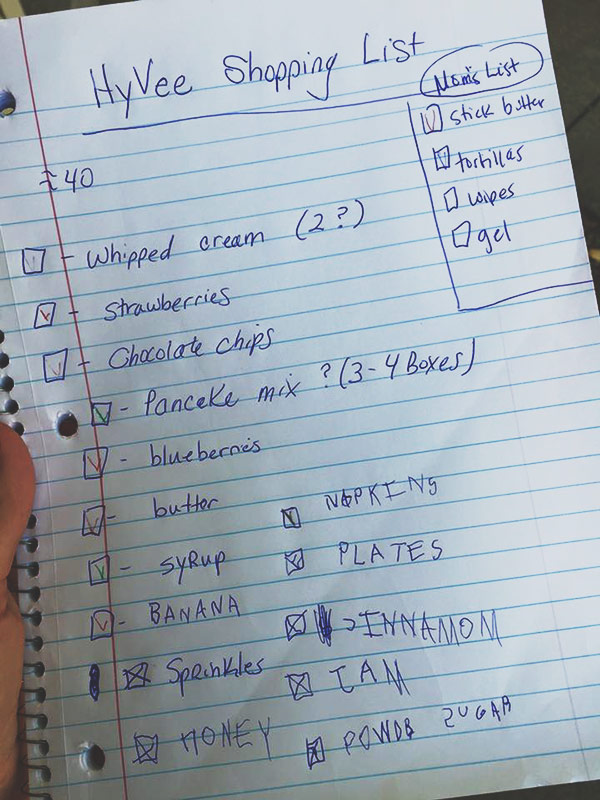 Then it was off to Hy-Vee to buy the ingredients…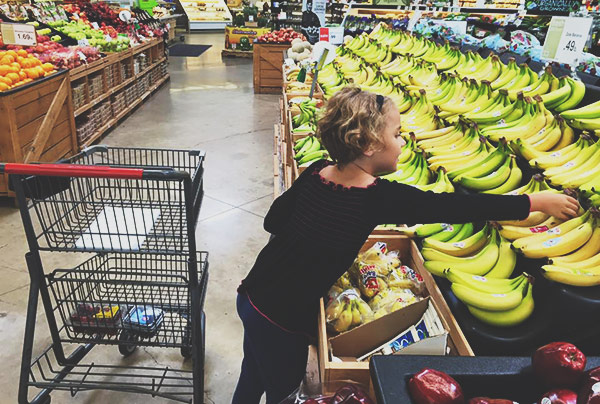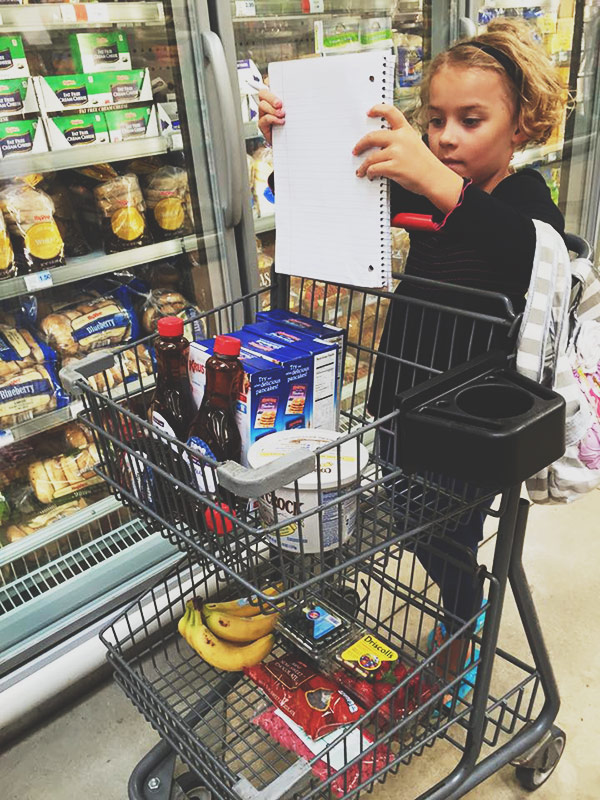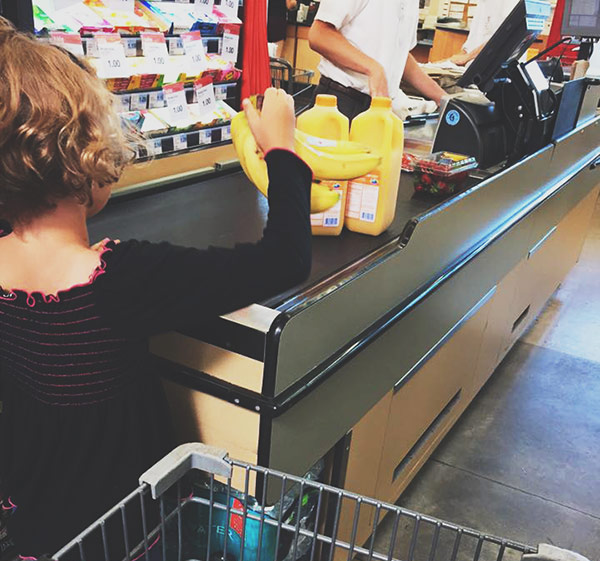 She illustrated a flyer to help market the event.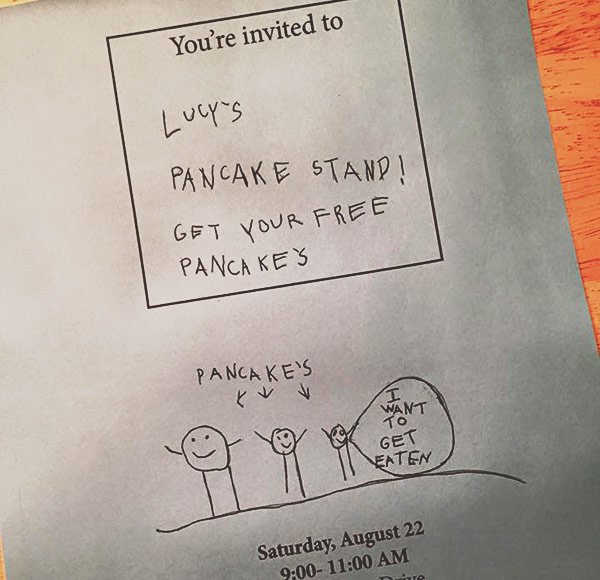 Kim and Lucy used Google Earth to examine a birds-eye view of the neighborhood to determine how many flyers to print, which Lucy then folded and sealed with a sticker.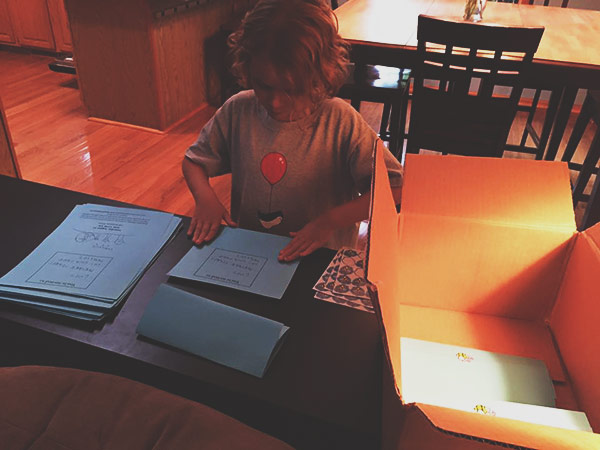 And then they canvassed the neighborhood to spread the word.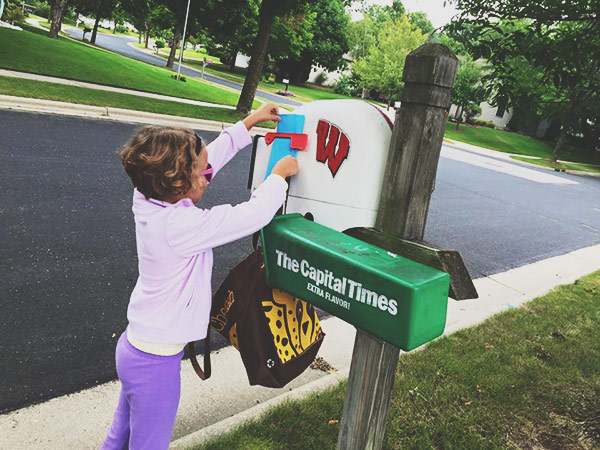 The next step was to create a poster to display on the big day.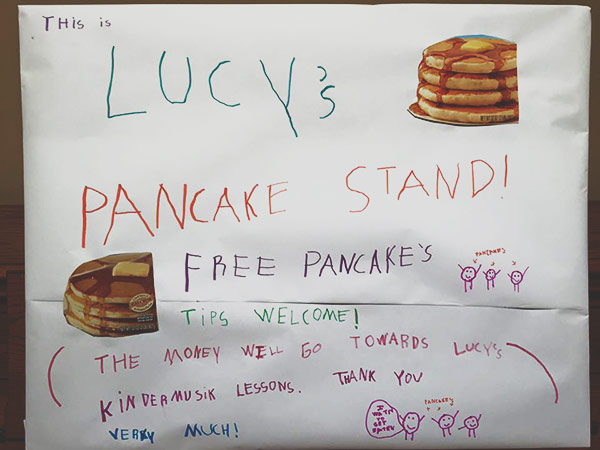 The weather cooperated nicely, and my daughter, who is usually a late sleeper, got up early in excitement to set everything up.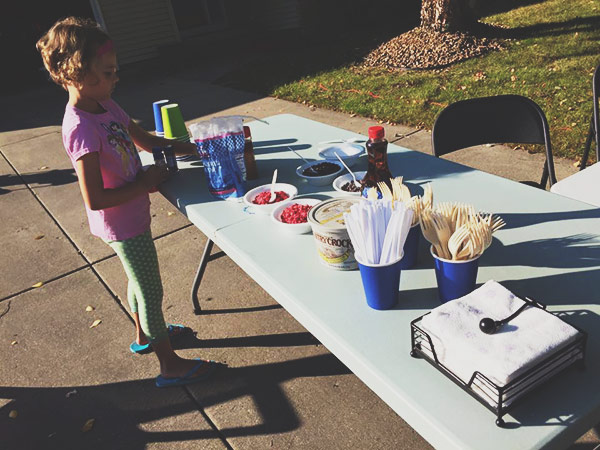 Her little brother helped mix the batter (his specialty) but was not much help outside. Perhaps some sunglasses would have proved useful.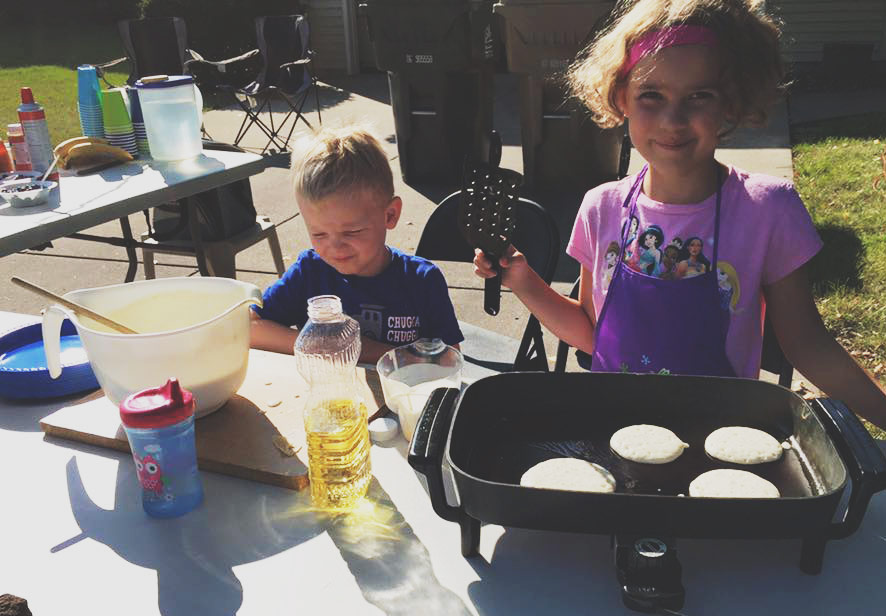 Her first customers!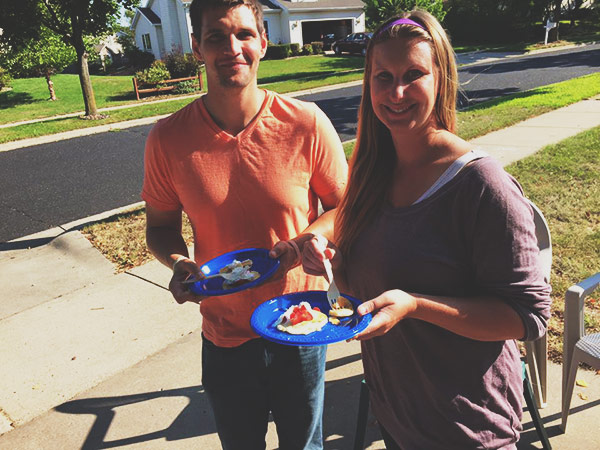 Although we didn't have a hard count, we estimate that Lucy made at least 80 pancakes that day. One of the great unexpected benefits was getting to know our neighbors better, as well as meeting some for the first time.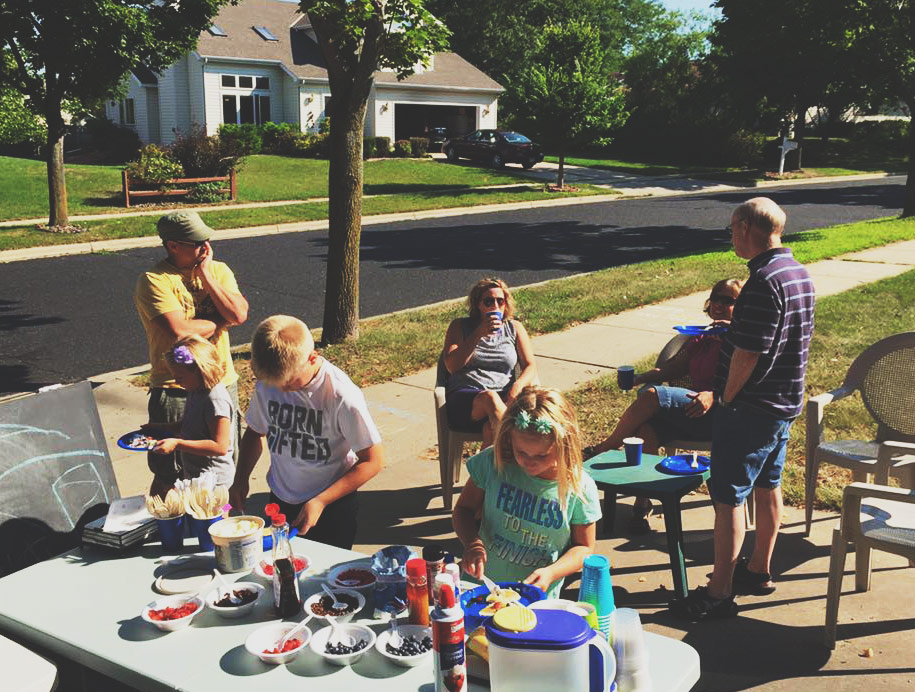 We were particularly proud of how poised she was during an especially busy run where she had a lot of customers waiting.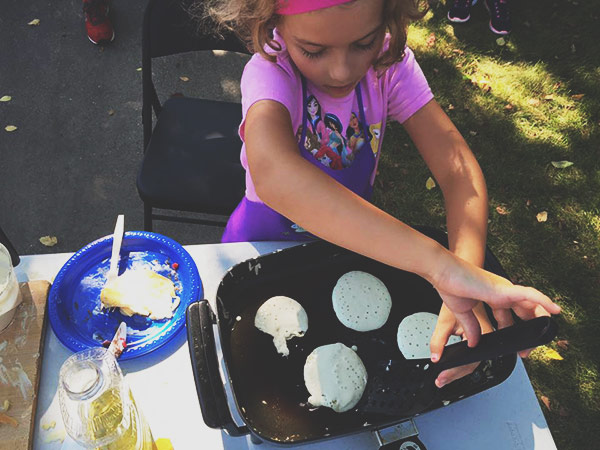 Here she is counting her haul. Lucy's goal was to raise $100. Her profit after expenses was $153!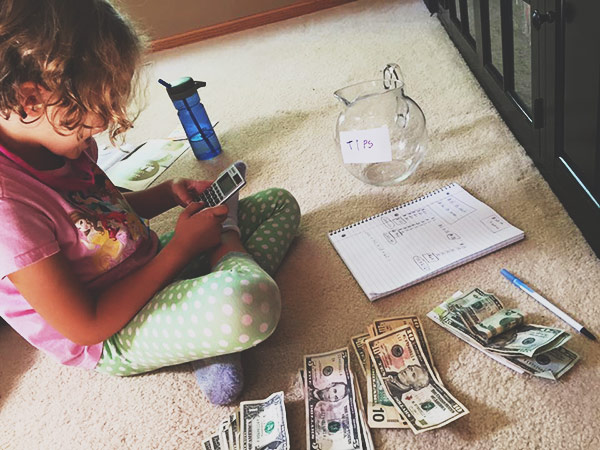 Thanks to everybody who came out, as well as the folks who shared their words of encouragement online!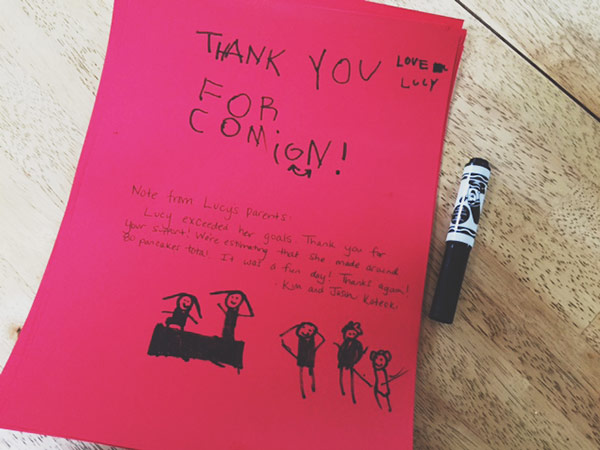 This one project, which spanned about a week and a half, gave Lucy an opportunity to practice math, writing, planning skills, entrepreneurship, sales, marketing, customer service, and more.
It's one of the many reasons Kim and I are in love with homeschooling, along with the freedom it provides our family. We often feel like we've stumbled upon an amazing secret that hardly anyone knows about and can't believe our good fortune to have accidentally discovered it.
Not that we want to hoard it. On the contrary, we have an insane desire to shout about it from the rooftops but are wary of coming across as that girl who recently discovered running, lost 75 pounds, and now only posts sweaty pictures of herself on Facebook running her daily marathon.
Speaking of Facebook, which is currently flooded with posts of parents celebrating the return of school, it would seem counterintuitive to describe "freedom" as one of the great benefits of homeschooling. Normally the thought of being with your kids 24/7 strikes most people as something between a burden and a punishment worse than waterboarding.
I would have thought the same thing, until I experienced the taste of homeschooling firsthand. Now, the idea of scheduling our entire life around the 9:00 am drop off and 3:00 pm pickup every day for the next 20 years suddenly seems incredibly unappealing. We much prefer our relaxed mornings over the busy rush of getting up early to pack lunches and get everyone fed, dressed, and out the door. We cherish the freedom of enjoying parks, museums, zoos, and libraries when they aren't overcrowded. We love the unrushed lifestyle that allows us the freedom to travel whenever we want, spend our days as we wish (and change it at a moment's notice), and gives our kids the time to explore and learn about what interests them.
Somehow, this homeschooling lifestyle makes us feel incredibly rich — like millionaires even — even though we live on much less than most of our peers.
Indeed, it's not without sacrifice and it's not always easy, but it sure is a neat way to navigate life as a family. Although nowhere near mainstream, I am happy that homeschooling is on the rise. Thank you to all the pioneers who came before us, to pave the way and show us just how much can come from making pancakes.