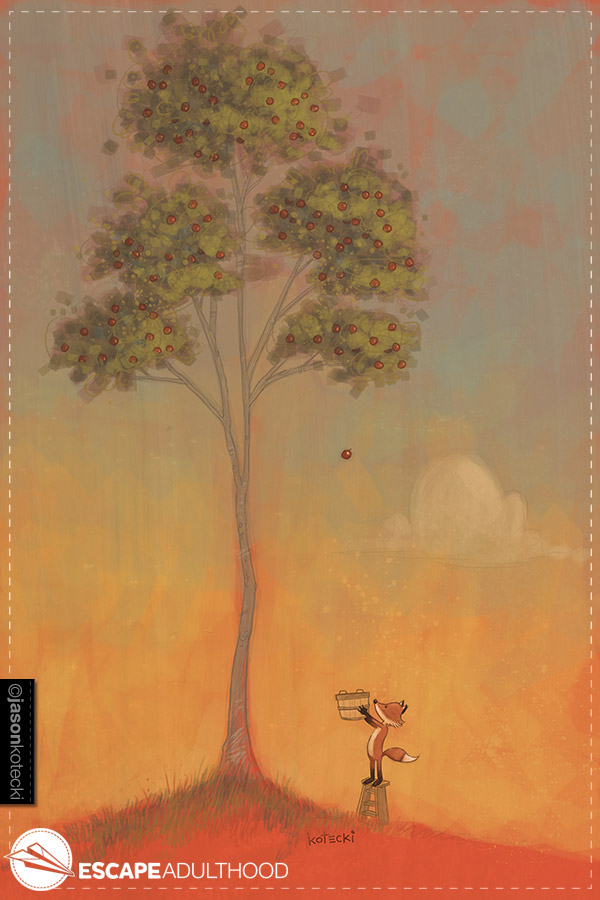 I sat for a long time on this painting, trying to decide if it was finished. I often add some sort of phrase to my work, to underline the meaning. But I kept thinking it could mean different things to different people, and I didn't want to limit them all by choosing just one.
Kim and I are initiators; we like to think of ourselves as self-reliant. This is a good trait to have when you encounter closed doors. Instead of accepting defeat, you look for another door, or a window that might have been left unlocked.
This trait, however, makes it difficult to accept gifts. By definition, a gift is not something you can buy or acquire through an act of will. Rather, it is bestowed upon us. It's free and requires nothing in return except for us to humbly receive it with gratitude.
Although Kim and I have accomplished a lot through our own talents and persistence, the truth is that we wouldn't be here were it not for the gifts of others.
Our friend Jenna followed us to Madison and donated years of her time to work with us — for free! — doing whatever was required to help us get this thing off the ground. Our friend Sue helped out by helping to subsidize Jenna's living expenses that we weren't able to cover.
We amassed $100,000 in debt in the building of this company. Much of it was used staying afloat, finding our way as a company, as we tinkered, looking for a working business model. Survival would not have been possible were it not for some generous personal loans and gifts from our friends and parents. The majority of that debt is now gone, but the gratitude to those people who showed their belief in us remains.
The successful launch of Penguins Can't Fly was another uncomfortable moment when we had to ask for and rely on other people to help spread the word. We saw every sale, every share, every positive review, as a gift.
Kim and I have a hard time owing people. We're happy to climb the tree ourselves and get our own damn apples, thank you very much. We also love dispensing our apples to others. It's fun to be able to help someone along with no expectation of reciprocity.
But accepting help from someone else? That's a different matter entirely.
It's awkward and uncomfortable and frankly, a full-frontal assault on our pride in a society that worships self-made successes.
Which, like unicorn-riding leprechauns, don't actually exist.
We were not made to be alone. We were created to help each other. That means being generous with our time, talents, and treasure, but it also means receiving those gifts from others in our own time of need, too.
And so for me, right now, this painting reminds me to be grateful for all the people who have helped us get to now and to stay open to the gifts we will need to accept in order to get to where we're supposed to be.
It also reminds me that providence doesn't usually come all at once in bunches. More often it arrives just in time, apple by apple.
Yeah, that's what this painting means to me. I'm curious what it means to you. Feel free to leave a comment and let me know.