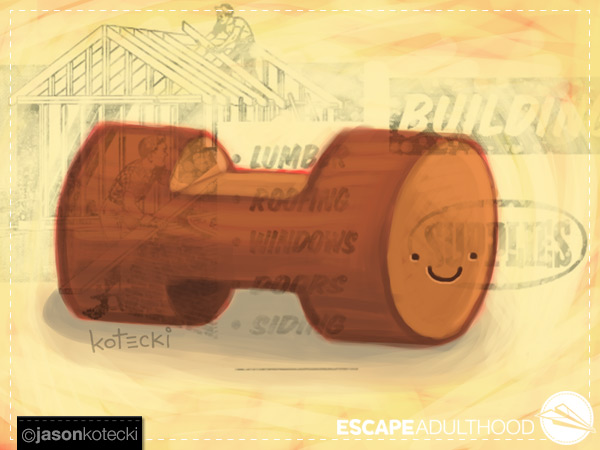 My dad just retired from a career that most recently included an almost 40-year stint at a lumberyard in Illinois. Retirement came a bit sooner than he and my Mom originally planned, but thanks to their financial prudence, they figured out a way to make it happen. And I am so proud of them for that. This leap has been carefully measured, but it's still a leap. I am excited for the adventures that lie ahead.
Of course, there were many highs and lows that accumulated over the years, and there are no doubt many lessons my Dad learned in that time. But it turns out that I actually learned a lot, too, just by watching him.
1) Do the right thing, even if no one is watching. My dad is the type of guy who lets a waitress know when she forgot to put his drink on the check. Not to be praised, but because it's the right thing to do. Sometimes he'd take me to the yard with him after it was closed so I could make copies of my handmade newsletters on the company copy machine. He'd always drop enough change to cover the cost in a little styrofoam cup nearby. His boss may not have been watching, but I was.
2) Treat people with respect, even if they might not deserve it. Somehow, no matter how unreasonable or nasty a customer or co-worker acted, my dad always took the high road. I'm not sure how he does it, but I know he relishes "killing people with kindness." In that respect, I believe he's achieved serial killer status.
3) Work hard, even if you don't get rewarded for it. The lumberyard my dad worked at struggled to make a profit each year, and the employees rarely received raises. And yet, instead of silently protesting by doing the bare minimum, my dad was always focused on figuring out how to save the company money or bring in more revenue.
4) Ask for what you want. You never know, you might get it (or at least part of it). There were many times when he had the courage to ask for something he thought he deserved, and more times than not, he got it. If you don't ask, you're always guaranteed to not get it.
5) The best way to deal with an angry customer is to shut up, listen, and ask, "How can I fix it?" Too many people get defensive, put up a fight, and justify what happened instead of just letting the person vent, which is really what they want anyway. They want to be heard. The bonus of the strategy is that the customer usually asks for far less than you were prepared to give them in the first place. By the way, this is a good strategy for all relationships.
6) Family first. When your kid needs to talk, stop the clock. My Dad used to work on estimates for contractors at home, after hours. He'd sit at the dining room table with a stopwatch, tracking his overtime. Any time one of his sons ventured into the room, looking to talk, he'd stop the clock (there's that honesty thing again), and become fully present for a conversation that could end up lasting an hour. You can say your family is your top priority all day long, but only your actions prove it.
7) Little things, when accumulated consistently over time, become big things. My Dad is the master of saving up spare change that he would have spent on soda from the vending machine and then randomly pull out a jar with seven million dollars in it when he and mom needed to pay for a major home repair or toyed with the idea of taking a trip. Slow and steady = #winning.
I actually have seven more lessons to share, but those can wait for next week. But isn't it interesting to think how much of an impact we can make on people just by how we live our life?